Welcome to "The Farmer's Breakfast: Simple, Satisfying, and Oh-So-Delicious!" 🌾🍳
In this mouthwatering episode, we're diving headfirst into the world of hearty farm-style breakfasts that will make your taste buds dance with joy. Join us as we explore the freshest ingredients straight from the fields and barns, transforming them into delectable morning meals that are both simple to prepare and incredibly satisfying.
Discover the secret behind creating the perfect farmer's breakfast that's not only delicious but also nutritious. We'll share time-tested recipes and culinary tips that have been passed down through generations, ensuring you start your day with a hearty and wholesome meal.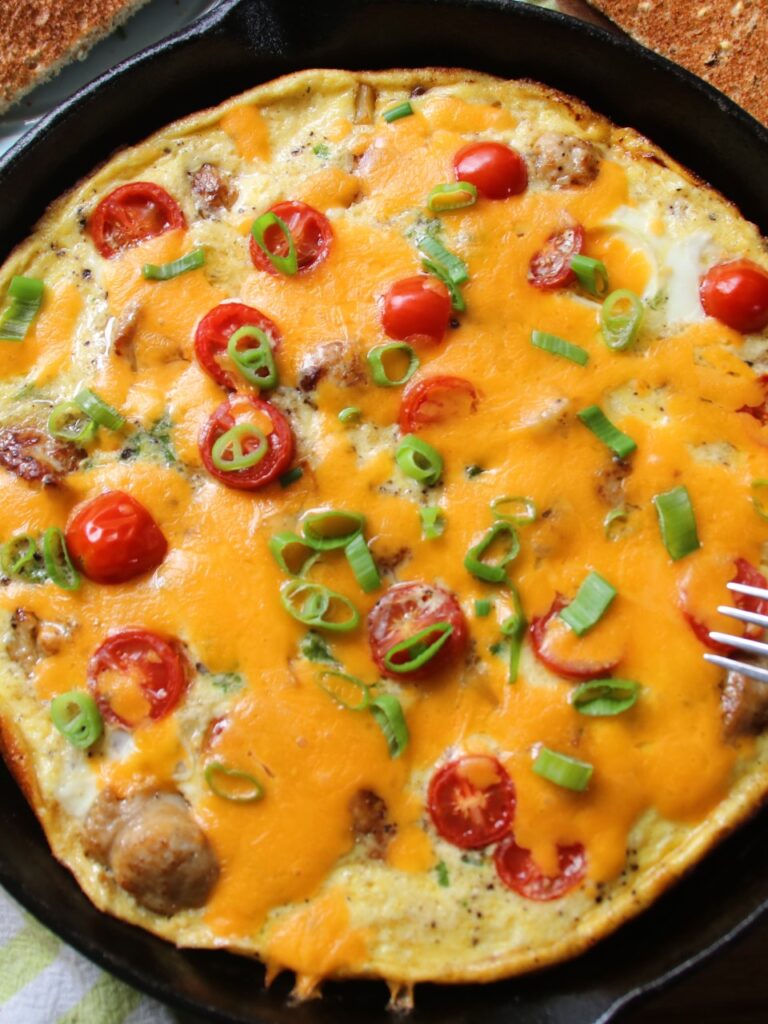 The Farmers Breakfast
Description
Whether you're a seasoned farmer or just a breakfast enthusiast looking to experience the rustic charm of a farmer's morning ritual, our channel has something for you. So, roll up your sleeves, put on your apron, and let's get cooking together!
Add the eggs, milk, salt, pepper, and garlic powder to a bowl or measuring cup. Mix until well combined and a bit frothy. Set aside. 

Add the oil to a pan over medium high heat. Place the sausage in and fry until cooked through. 

Move the sausage to one side and add in the onion and potatoes. Stir and fry for a few minutes until the potatoes are cooked and the onion translucent. 

Pour in the egg mixture, reduce the heat to medium, and allow to cook until the egg begins to set. Once it begins to set, add in the tomatoes. Cover and cook until the mixture just about sets completely. 

Remove the cover and sprinkle the cheese and green onion over the top. Place the cover back and and continue to cook, for about 2 minutes, until the cheese melts. 

Serve with toast and enjoy your farmers breakfast. 
Servings 1
---
Amount Per Serving

% Daily Value *

Total Fat 15g

24

%

Cholesterol 38mg

13

%

Protein 12g

24

%
---
* Percent Daily Values are based on a 2,000 calorie diet. Your daily value may be higher or lower depending on your calorie needs. Nutritional values are a within reason estimate and my vary depending on several factors.
Note
Fresh, Local Ingredients: Whenever possible, use fresh, locally sourced ingredients for an authentic farm-to-table experience. Farm-fresh eggs, locally cured bacon, and freshly baked bread can elevate the taste of your breakfast.

Cook Bacon or sausage to Your Preference: Adjust the cooking time for bacon based on your preference for crispiness. Some like it extra crispy, while others prefer it slightly chewy. Use a skillet or oven to achieve your desired bacon texture.

Egg Seasoning: Season your scrambled eggs with a pinch of salt and pepper for extra flavor. Some people like to add a splash of milk or cream for creamier eggs, but it's optional.

Toast Variations: Feel free to use your favorite type of bread for toasting, whether it's white, whole wheat, sourdough, or a rustic farmhouse loaf. You can also spread butter, jam, or honey on your toast for added flavor.

Sides and Garnishes: Customize your farmer's breakfast with a variety of sides and garnishes. Consider serving sliced avocado, sautéed mushrooms, diced tomatoes, or a sprinkle of fresh herbs for extra color and taste.

Healthy Alternatives: If you're looking for a healthier version, you can opt for turkey bacon or leaner cuts of bacon. Use whole-grain bread for toast and consider adding a side of Greek yogurt with berries for a nutritious twist.

Portion Control: Pay attention to portion sizes, especially if you're watching your calorie intake. You can adjust the number of eggs, sausage, and toast based on your dietary needs.

Cooking Techniques: Master the art of making perfect scrambled eggs by cooking them over low to medium heat, stirring gently, and removing them from the heat just before they cook. 
Breakfast, Sausages, Eggs, Breakfast, Hash Browns, Easy Breakfast, Quiche