Indulge in the ultimate Italian comfort food with our easy-to-follow recipe for Tomato and Ricotta Pasta! In this video, we'll show you step-by-step how to create a delicious, creamy, and satisfying dish that's perfect for a weeknight dinner or a cozy weekend meal.
This recipe is not only incredibly flavorful but also quick to make, taking just a few ingredients and a little over 30 minutes of your time. Whether you're a seasoned home chef or just getting started in the kitchen, this dish is perfect for anyone looking to bring a taste of Italy to their dining table.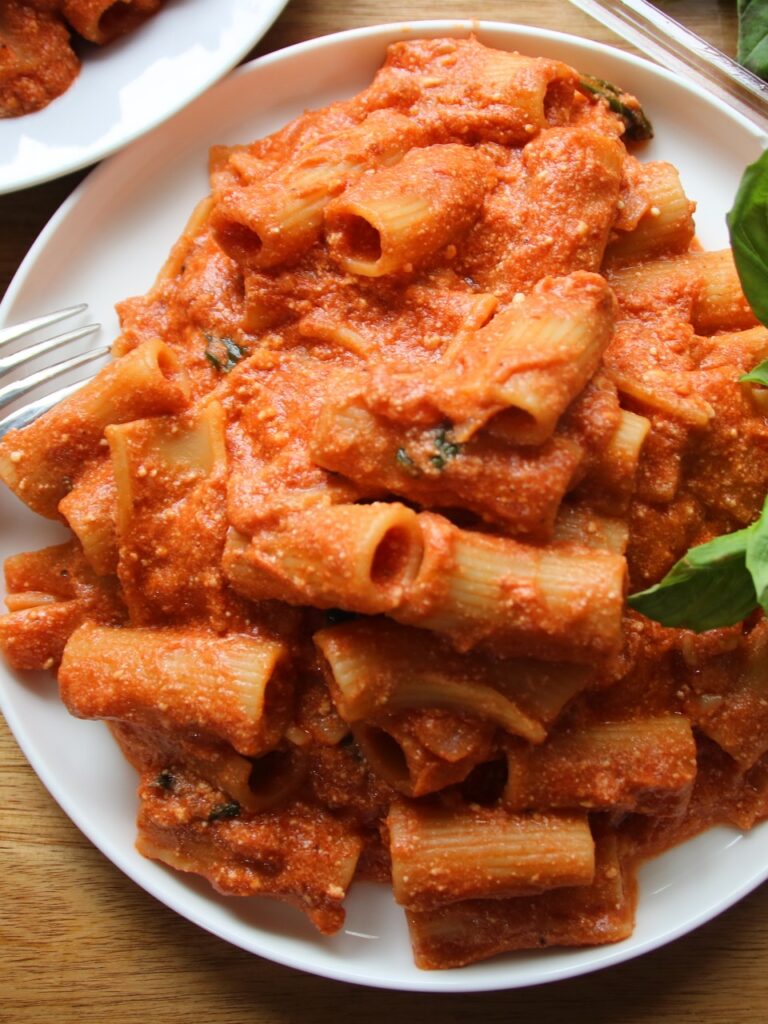 Easy Tomato Ricotta Pasta
Description
Join us as we guide you through the process, offering tips and tricks along the way to make your cooking experience as smooth as possible. We promise you'll be amazed at the rich flavors and comforting textures this Tomato and Ricotta Pasta has to offer.
Add the oil to a pan over medium low heat. Put in the onions, garlic, and pepper flakes. Stir and saute for about 8 to 10 minutes until the onions turn color and are translucent. 

Add in the tomato sauce, salt, and pepper. Stir until well combined and bring to a soft boil. Allow to simmer for about 10 minutes or so. 

In the mean time, add the pasta to a pot of boiling salted water and allow to cook for about 10 minutes or until al dente. 

Add in the basil and stir until combined. Allow it to simmer over low heat for a few minutes. 

Add the ricotta, parmesan, and pasta water to a bowl. Using a spoon or fork mix until creamy. 

Add the ricotta mixture to the sauce and stir. Then, add in the pasta and toss until the pasta us coated with the sauce. 

Serve with some extra basil on the side. Enjoy your easy tomato ricotta pasta!
Servings 1
---
Amount Per Serving

% Daily Value *

Total Fat 20g

31

%

Cholesterol 21mg

8

%

Sodium 720mg

30

%

Potassium 810mg

24

%

Total Carbohydrate 18g

6

%

Dietary Fiber 5g

20

%

Sugars 10g

Protein 9g

18

%
---
* Percent Daily Values are based on a 2,000 calorie diet. Your daily value may be higher or lower depending on your calorie needs. Nutritional values are a within reason estimate and my vary depending on several factors.
Note
Ricotta Cheese: Use whole-milk ricotta for a rich and creamy texture. Low-fat ricotta can be used as a healthier alternative, but it may result in a slightly less creamy sauce.

Seasoning: Season your tomato and ricotta sauce generously with salt and freshly ground black pepper. You can also add a pinch of red pepper flakes for a subtle kick of heat.

Garlic and Onions: Sauté the garlic and onions until they are fragrant and translucent. This will release their flavors and enhance the overall taste of the sauce.

Fresh Herbs: Fresh basil or parsley makes an excellent garnish for this dish. Chopped basil adds a beautiful, aromatic touch, and a sprinkle of freshly grated Parmesan or Pecorino Romano cheese is a fantastic finishing touch.

Pasta Choice: While the recipe suggests using rigatoni, you can use any pasta of your choice. Penne, fettuccine, or spaghetti work well, too. Cook the pasta according to the package instructions until it's al dente.

Reserve Pasta Water: Before draining the cooked pasta, save a cup of the pasta cooking water. This starchy water can be added to the sauce to help it adhere better to the pasta and create a silky texture.
Pasta Recipe, Italian Cuisine, Tomato Ricotta Pasta, Midweek Meals, Easy Recipe