Are you ready to elevate your cooking game with a scrumptious and easy-to-make recipe? In this recipe, we're sharing our mouthwatering recipe for Easy Cheesy Chicken Fritters that you can prepare right in the comfort of your own kitchen.
These fritters are the perfect combination of crispy, tender chicken and ooey-gooey cheese, making them a delightful treat for both kids and adults. We'll walk you through the step-by-step process, from preparing the ingredients to achieving that golden-brown perfection. Whether you're a seasoned chef or a kitchen newbie, this recipe is designed to be accessible and enjoyable for everyone.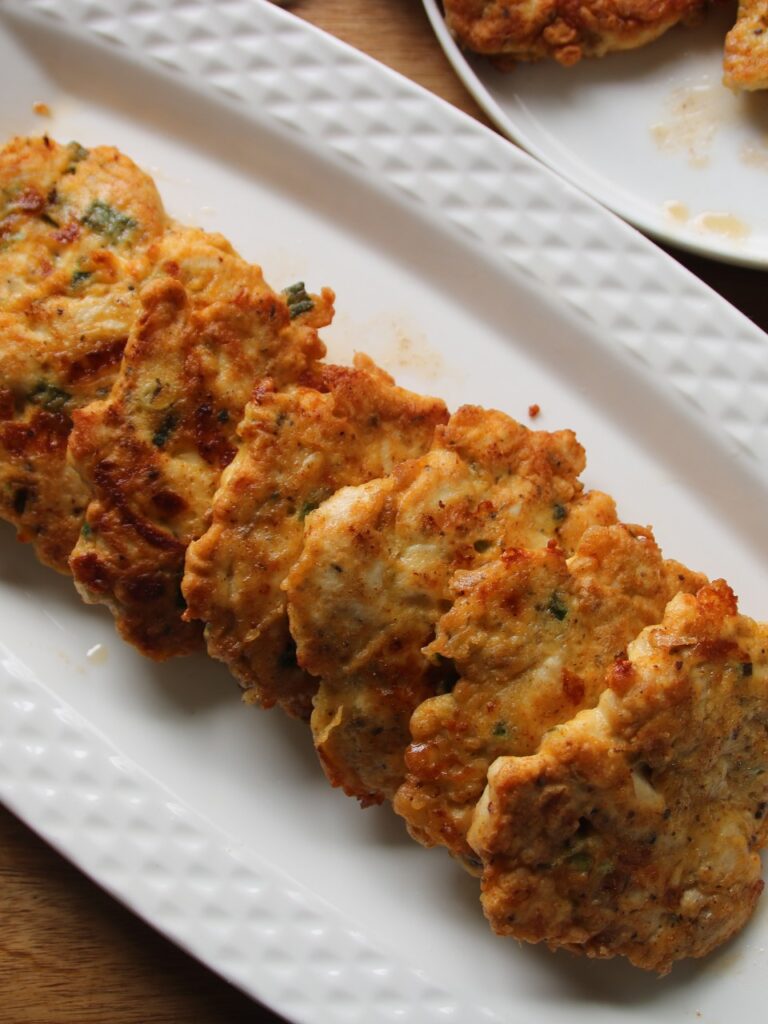 Easy Cheesy Chicken Fritters
Description
So, join us in the kitchen and let's create a dish that's perfect for a weeknight dinner, a game day snack, or a party appetizer. Don't forget to like, share, and subscribe for more delicious recipes like this. Get ready to impress your friends and family with these Easy Cheesy Chicken Fritters – it's time to satisfy your cravings!
Add the chicken, salt, pepper, paprika, Italian seasoning, garlic powder, mayo, and flour to a mixing bowl. Mix until well combined. 

Add in the cheese and onions. Mix once again until well combined and a patty mixture of sorts forms. 

Add the oil to a pan over medium high heat. Scoop up about 1/2 cup of the mixture and place it into the pan. Form it into a patty mixture using a spoon or spatula. Fry on both sides until cooked and browned. Set aside on a plate. You might have to fry the patties in batches depending on the size of your pan. 

Serve and enjoy your easy cheesy chicken fritters!
Servings 1
---
Amount Per Serving

% Daily Value *

Total Fat 7g

11

%

Saturated Fat 2g

10

%

Cholesterol 35mg

12

%

Sodium 460mg

20

%

Potassium 510mg

15

%

Total Carbohydrate 20g

7

%

Dietary Fiber 0.5g

2

%

Sugars 0.5g

Protein 9g

18

%
---
* Percent Daily Values are based on a 2,000 calorie diet. Your daily value may be higher or lower depending on your calorie needs. Nutritional values are a within reason estimate and my vary depending on several factors.
Note
Chicken Selection: Choose boneless, skinless chicken breasts or chicken thighs for this recipe. Ensure they are fresh and properly trimmed to remove any excess fat.

Cheese Options: You can use your favorite melting cheese for these fritters. Cheddar, mozzarella, and pepper jack are popular choices. Grate the cheese for easier mixing and melting.

Seasoning: Customize the seasoning to your liking. You can add spices like paprika, garlic powder, onion powder, or even a touch of cayenne pepper for some heat. Don't forget salt and black pepper for balanced flavor.

Uniform Size: For even cooking and a more appealing presentation, try to make the fritters a consistent size. Use a cookie scoop or your hands to portion them out.

Oil Drainage: After frying, place the fritters on a plate lined with paper towels to remove excess oil and maintain their crispiness.

Serving Suggestions: These cheesy chicken fritters are fantastic on their own, but you can also serve them with your favorite dipping sauces, such as ranch dressing, honey mustard, or barbecue sauce. They're versatile and can be enjoyed as an appetizer, snack, or a main course with a side salad or vegetables.

Reheating: If you have leftovers, you can reheat them in a preheated oven at 350°F (175°C) for about 10-15 minutes to maintain their crispiness.

Storage: Store any remaining fritters in an airtight container in the refrigerator for up to 3-4 days. To freeze them, place them in a single layer on a baking sheet, freeze until firm, and then transfer to a freezer-safe container or bag. They can be frozen for up to 2-3 months. Reheat from frozen in the oven.

 

Frying Tips: Heat the oil in a skillet over medium-high heat until it's hot but not smoking. Gently place the fritters in the pan and avoid overcrowding, which can lead to uneven cooking. Cook until they're golden brown on both sides, approximately 3-4 minutes per side.

 
Chicken Recipe, Chicken Fritters, Midweek Meal, Comfort Food, Easy Chicken Recipe