Tarte tatin was originally a French dish. It is very similar to an apple pie turned upside down. The dish, however, does not have to be made with apples, you can use pineapple or any other fruit for that matter.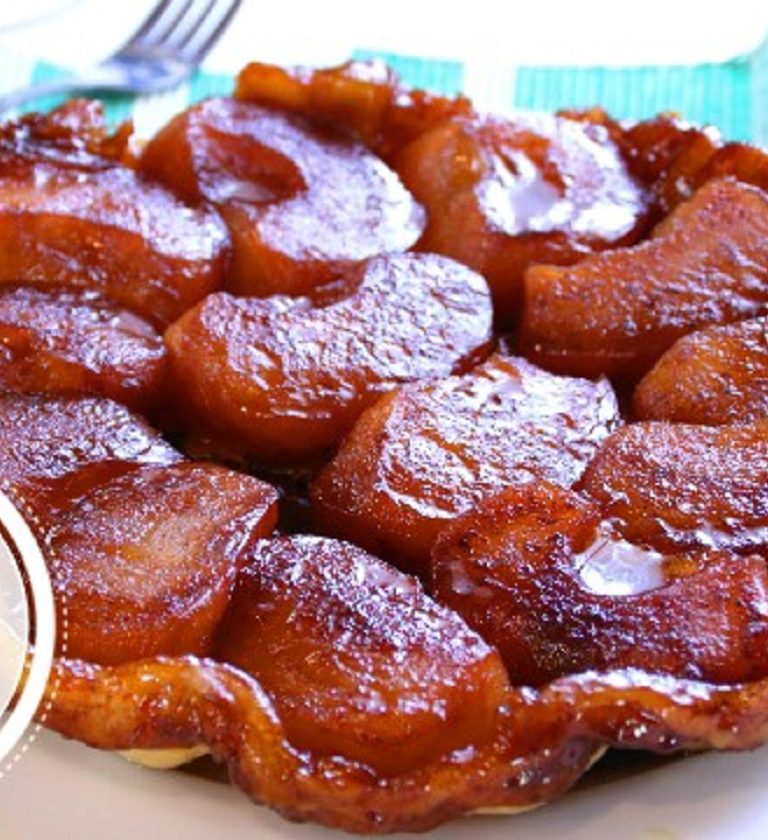 Apple Tarte Tatin – Upside Down Apple Pie
Description
Believe me everybody will love it. It is one of the best desserts I have ever tasted.
Place the apples into a bowl and squeeze the lemon over the apples.

Add the sugar into a pan and allow it to melt down.

Add in the butter and allow it to melt down, add in the cinnamon, and vanilla extract.

Place the apples around the pan and allow the dish to simmer for 6 to 7 minutes.

Put the pie crust over the top and tuck the edges in.

Take a sharp knife and make 4 holes.

Place the dish into a 375 F 190 C preheated oven for 25 to 30 minutes or until golden brown.

Allow it to cool and take a knife and go around the edges.

Place a plate over the top and flip the pie over.

Serve and enjoy your apple tarte tatin - Upside Down Apple Pie with some ice cream.
Serving Size 1 slice
Servings 1
---
Amount Per Serving

% Daily Value *

Total Fat 15g

24

%

Cholesterol 73mg

25

%

Potassium 120mg

4

%

Total Carbohydrate 47g

16

%

Sugars 21g
---
* Percent Daily Values are based on a 2,000 calorie diet. Your daily value may be higher or lower depending on your calorie needs. Nutritional values are a within reason estimate and my vary depending on several factors.