I don't know about you, but I just love comfort food. Bangers and mashed is one of those classic British recipes that will touch your heart and soul. Made with a delicious combination of pork sausages, mashed potatoes, and a dark rich onion gravy, this dish is the ultimate classic comfort food. It can be made in about 30 minutes. Best yet, it's budget friendly. The dish will feed about 4 people and costs between 10 and 12 dollars.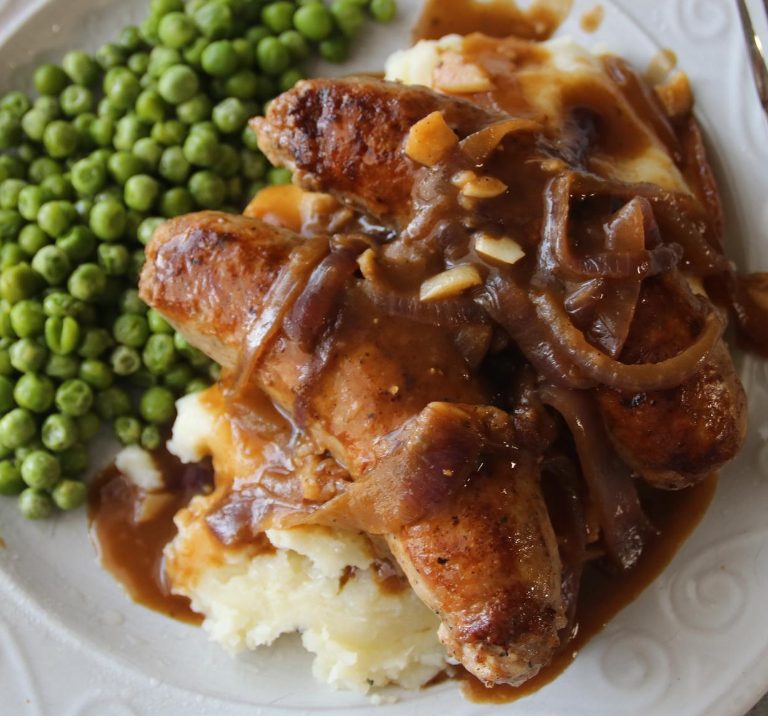 Bangers and Mash – A Classic British Recipe in 30 Minutes
Description
I'm always looking for a fast and easy comfort food. In my humble opinion midweek meals have to be made in 30 minutes or under, be delicious, and involve a few simple ingredients that I'll have in my pantry. Bangers and mashed checks all of these boxes. The most wonderful part of the recipe is the onion gravy, which is simply to die for. 
For the Sausages
For the Mashed
For the Onion Gravy
To Make the Sausages
Add the butter to a pan over medium high heat and allow it to melt down. Add in the olive oil.

Place the sausages in and fry on each side until browned. This should take about 4 minutes or so on each side. Set them aside on a plate.
To Make the Sausage Gravy
Add the onions to the same pan as the sausages. Allow them to fry, while stirring, until just about caramelized. 

Place the garlic in and saute until fragrant. This will take about 2 minutes.

Add in the flour. Stir and cook for a minute or two until cooked.

Pour in half the broth and stir until combined. Add in the remaining broth, bring to a boil, and stir until it thickens.

Put the Worcestershire sauce, salt, and pepper in. Stir once again. Set aside for a few minutes.
To Make the Mashed
Add the potatoes to a pot of water and boil until fork tender. This should take 10 to 15 minutes depending on the size of the cubes. Drain.

Add the milk, butter, salt, pepper, and garlic powder to the potatoes. Mash until smooth and creamy. You can put more milk in if necessary.
To Plate the Dish
Place the potatoes on a plate, put two of the bangers over the top, and spoon the onion gravy over. Spoon some peas on the side, serve, and enjoy.
Servings 1
---
Amount Per Serving

% Daily Value *

Total Fat 30g

47

%

Saturated Fat 10.97g

55

%

Cholesterol 29mg

10

%

Sodium 1000mg

42

%

Total Carbohydrate 28g

10

%

Dietary Fiber 7g

29

%

Sugars 8g

Protein 23.99g

48

%
---
* Percent Daily Values are based on a 2,000 calorie diet. Your daily value may be higher or lower depending on your calorie needs. Nutritional values are a within reason estimate and my vary depending on several factors.
Note
Sausage Selection: Opt for budget-friendly sausages such as pork or chicken sausages. You can choose your favorite flavor, whether it's plain, herbed, or spicy. Just ensure they are fully cooked sausages, as we'll be smothering them in a sauce.

Sauce Options: We'll be preparing a rich and savory sauce to smother the sausages. You can use a variety of options based on your taste preferences and what you have available. A classic option is an onion and mushroom gravy, but you can also try a tomato-based sauce, a beer-infused sauce, or even a tangy barbecue sauce. Get creative with the flavors!

Mashed Potatoes: For the perfect creamy mashed potatoes, choose starchy potatoes like Russets or Yukon Gold. Peel and dice the potatoes before boiling them until tender. Drain well and mash them with butter, milk (or cream), salt, and pepper until smooth and fluffy. Adjust the consistency by adding more milk if needed.

Sausage Cooking: Before smothering the sausages, it's best to give them a quick sear in a skillet. This will enhance their flavor and texture. Heat some oil in the skillet and cook the sausages over medium heat until they are nicely browned on all sides. This step adds extra deliciousness to the final dish.

Vegetable Additions: While the classic recipe typically features sausages and mashed potatoes, feel free to add some cooked vegetables to make it a more well-rounded meal. Steamed or roasted green beans, peas, carrots, or sautéed spinach are excellent options. They add color, texture, and nutrients to the dish.

Garnish Ideas: To add a pop of freshness and visual appeal, consider garnishing your dish. Chopped fresh herbs like parsley, chives, or green onions work well. You can also sprinkle some grated cheese, crispy fried onions, or even a drizzle of hot sauce for an extra kick.

Serving Suggestions: Budget Smothered Sausages Over Mashed - Bangers and Mashed is a complete meal on its own. However, you can pair it with a side salad, crusty bread, or even some pickles for added variety. It's a versatile dish that can be enjoyed for lunch or dinner.
Remember, this recipe is all about maximizing flavor while keeping costs down. Feel free to adapt and personalize it to your liking. We hope you enjoy this comforting and budget-friendly meal!
Bangers and Mashed, Sausages, Midweek Meals, 30 Minute Recipe