I have often had bolognese and it's always delicious. The cream is usually rich and filled with the goodness of tomato. Combined with the meat, the dish is out of this world. I have often wondered, however, what it would be like without meat. I know that sounds to be a contradiction in terms as bolognese means tomatoes and meat.  But having ventured this far in the world of Italian heresy, I thought I would do my best to give it a try.
One thing I did know is that the sauce had to have a thick texture to it. Otherwise, it would not be worth even considering. In light of this, I went to work. Using coarsely chopped carrots, celery, and mushrooms as a base, it created that meaty-like texture that I wanted. To make a long story short, the outcome was out of this world.
Believe me, I could not believe that this sauce didn't contain any meat. It's a must try my friends.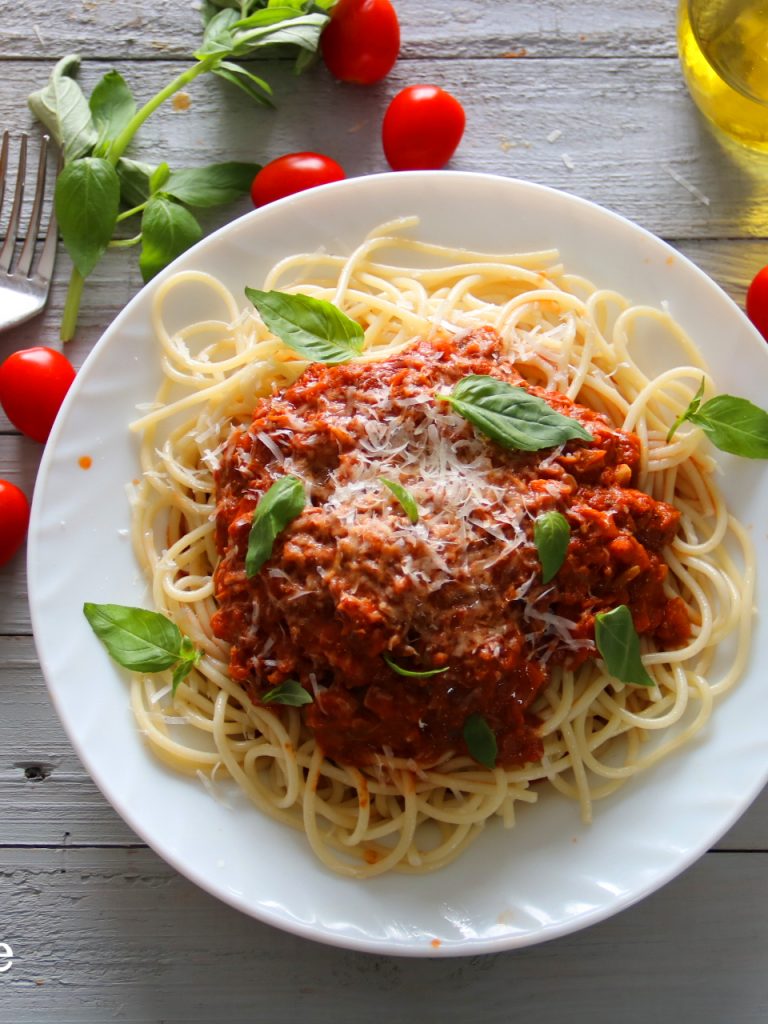 Creamy Meatless Spaghetti Bolognese
Description
This sauce is a meatless lovers dream. If there is such a thing. Using a coarsely chopped vegetable base, spices, and a few other basic ingredients, you would honestly think it's loaded with meat.
Add the carrots, mushrooms, and celery to a food processor and pulse until chopped. You do not want them mushy, just chopped.

Pour the oil into a Dutch oven over medium high heat. Add in the onion and garlic and fry until the onions are translucent and the garlic is fragrant.

Put the veggies in. Stir and saute until the they begin to sweat. This should take 4 minutes or so. Then add in the tomato paste and stir until it's well incorporated.

Pour in the broth, tomatoes, and cream along with the bay leaves. Stir and bring to a boil. 

Reduce the heat and cover. Allow the sauce to simmer for 20 minutes or so. 

While the sauce is simmer cook the spaghetti by adding salted water to a pot. Put the pasta in along with about a tablespoon of olive oil. Cook until al dente. This should take about 9 or 10 minutes.

Plate the spaghetti and ladle some sauce over the top. Grate on parmesan and add bay leave. 

Serve and enjoy your creamy meatless spaghetti bolognese. 
Servings 1
---
Amount Per Serving

% Daily Value *

Total Fat 14.8g

23

%

Saturated Fat 2.3g

12

%

Cholesterol 12mg

4

%

Sodium 830mg

35

%

Potassium 292mg

9

%

Total Carbohydrate 20.2g

7

%

Dietary Fiber 4.2g

17

%

Sugars 8.3g

Protein 10.6g

22

%
---
* Percent Daily Values are based on a 2,000 calorie diet. Your daily value may be higher or lower depending on your calorie needs. Nutritional values are a within reason estimate and my vary depending on several factors.
Note
These are the vegetable which I have chosen to add. You can omit some or add others depending on your taste. The same applies to the spices outlined in the recipe. 
Other types of pasta can be used as well. 
Vegetarian, Italian Cuisine, Spaghetti, Dinner Ideas