One night at dinner when I was sitting eating a pork chop. Head in hand looking at my plate, I thought how boring. There has to be some way to add some pizzazz to pork. With the help of deep thought and my mind and the internet, the idea of creamy pork paprika was born.
There are a few secrets to this dish. The first is use a good pork tenderloin. The tenderness of the meat will make all the difference in the world. You can also get a little more technical with the pork in terms of where it was grown, etc. I really don't think there is a need to go that far, however.
Other ideas I will mention throughout the recipe.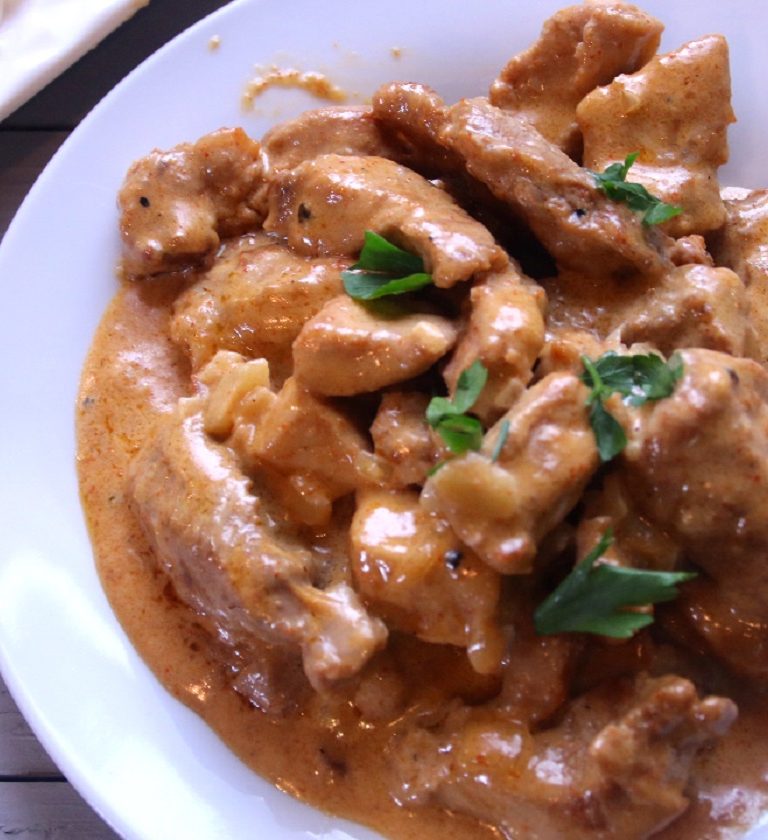 Creamy Pork Paprika in 30 Minutes
Description
I love a fast and easy recipe, but it has to be delicious. Believe me, this creamy pork paprika recipe is out of this world. I made it up with a simple combination of paprika, pork, heavy cream, salt, pepper, garlic, and onions. The outcome was to die for.
Add the paprika, flour, salt, and pepper to a small mixing bowl. Mix until well combined. 

Place the pork in a larger bowl and add the paprika mixture to it. Toss and message it into the meat so it's completely coated.

Place the butter into a pan heated to medium high heat and let it melt down. Put the pork in, stir and fry for about 10 minutes until it's browned and cooked through.

Add in the onion and garlic. Stir and saute for about 2 minutes until the garlic is fragrant. 

Pour the cream in, reduce the heat and allow it to simmer for 5 to 7 minutes until the cream slightly thickens. 

Turn off the heat, plate of a bed of rice, garnish with chopped parsley, and enjoy your creamy pork paprika.
Serving Size 3/4 cup
Servings 1
---
Amount Per Serving

% Daily Value *

Total Fat 23g

36

%

Saturated Fat 14g

70

%

Cholesterol 122mg

41

%

Sodium 524mg

22

%

Total Carbohydrate 3g

1

%

Sugars 1g

Protein 24g

48

%
---
* Percent Daily Values are based on a 2,000 calorie diet. Your daily value may be higher or lower depending on your calorie needs. Nutritional values are a within reason estimate and my vary depending on several factors.
Note
As I always say, you can alter, add, or modify any of the ingredients to satisfy your taste requirements. The recipe is just a skeleton, but I have to say awesome as it is. 
Pork, Dinner Ideas, Supper, Creamy Pork, Pork Paprika