It's summertime and that means grilling and burger time. I love homemade patties on the grill, but they have to be big and juicy. I refer to this burger as the backslider because it's loaded with spices and pure beef. Not only the patty is loaded, but I top the burger with tomatoes, lettuce, caramelized onions and all the toppings and trimmings imaginable. People often ask me why I refer to it as the backslider. My answer is simple. After tasting the ultimate burger, the most diet conscious person will backslide. 
Summer is the perfect time of year to serve this bad boy up as it simply has to be done on the grill. A frying pan or oven will not do this cheeseburger any justice whatsoever.
Give my ultimate supreme burger a try and let me know what you think.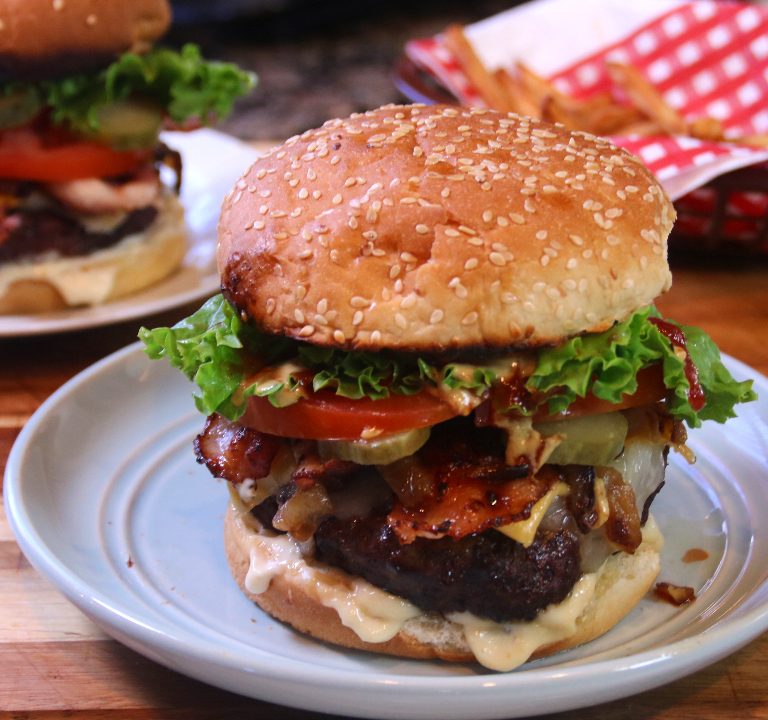 Dave's Ultimate Supreme Burger – The Backslider
Description
This homemade patty in this half pound giant is loaded with spices and the best beef available. Then it is topped with tomatoes, lettuce, caramelized onions and all the condiments and trimmings imaginable.
Place the ground beef in a mixing bowl. Add in the minced garlic, ketchup, Worcestershire sauce, tabasco, salt, pepper, and flavour explosion.  Using your hands or a wooden spoon, mix until well incorporated.

Grab up a fistful of the meat and form it into a ball. Flatten it out and make it into a patty. Set the patty onto a plate and poke a indentation in the centre using your finger. 

I form half pound patties, as I like my burgers large and juicy. In light of that, I only get two burgers. You can make your burgers smaller, however.

Place the burgers on a hot grill and cook on one side for about 5 minutes. Then, flip the burgers to the other side and cook for an additional 4 minutes. This should give you a medium burger. Adjust the cooking time according to your liking.

About 2 minutes before the burgers are done, add the cheese on and place the buns on the grill.

To build the burgers, spread some aioli sauce on the bottom portion of the bun and place the patty on followed by the bacon, onions, tomatoes, lettuce, pickles, mustard, and ketchup.

Of course, use the condiments of your choice.

Slip the top on, plate, and serve. Enjoy Dave's Ultimate Supreme Burger.
Serving Size 310 g
Servings 1
---
Amount Per Serving

% Daily Value *

Total Fat 50g

77

%

Saturated Fat 20g

100

%

Cholesterol 165mg

56

%

Sodium 2180mg

91

%

Total Carbohydrate 62g

21

%

Dietary Fiber 5g

20

%

Sugars 18g

Protein 51g

102

%
---
* Percent Daily Values are based on a 2,000 calorie diet. Your daily value may be higher or lower depending on your calorie needs. Nutritional values are a within reason estimate and my vary depending on several factors.
Note
Of course, you can always add your own topping to it. The only thing I strongly suggest is caramelized onions. In my opinion, they are a must for any burger. Onions would go so nicely as a topping as well.
Cheeseburgers, Hamburgers, Grilling, Summer Recipes, Party Food, Sandwiches