Welcome to our kitchen, where we're about to embark on a culinary adventure with our Deviled Chicken Delight recipe! Get ready for a flavor explosion in every bite that will elevate your taste buds to new heights.
In this step-by-step tutorial, we'll guide you through the process of creating the ultimate deviled chicken dish. From making the sauce to the perfect blend of spices and the cooking technique that ensures a juicy and flavorful result, we've got all the secrets to share.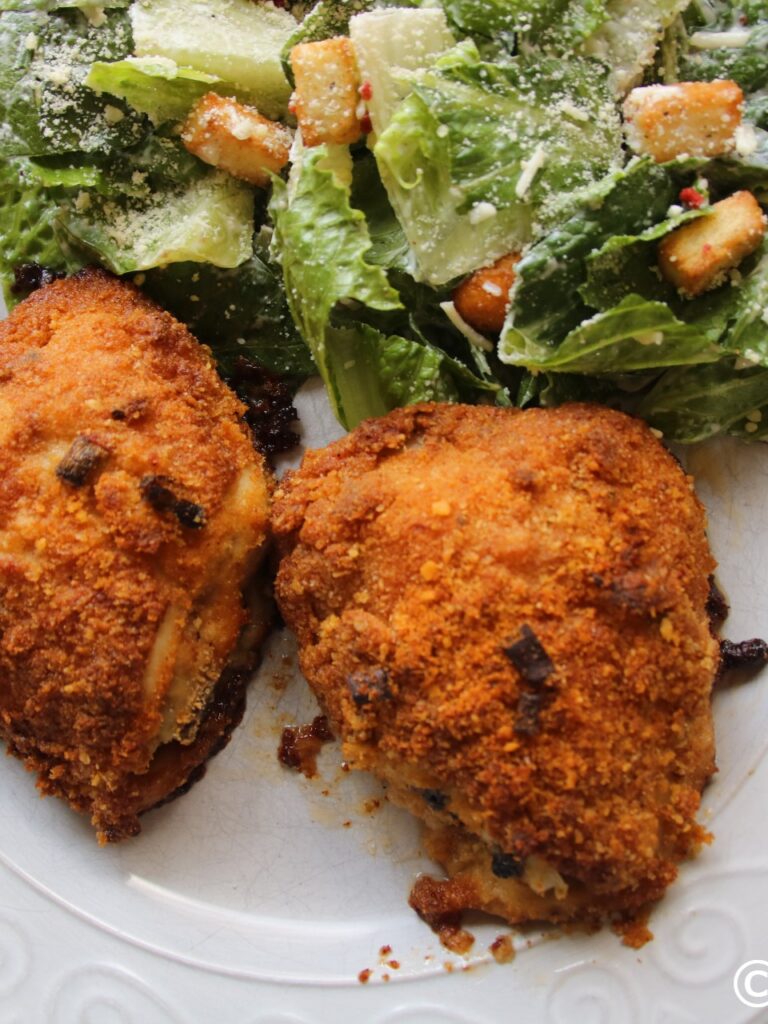 Deviled Chicken Delight: A Flavor Explosion in Every Bite!
Description
Whether you're a seasoned chef or a kitchen novice, our easy-to-follow instructions will make you feel confident in recreating this mouthwatering dish. Impress your friends and family with a meal that's not only delicious but also a true celebration of bold flavors.
For the Chicken
For the Sauce
For the Breadcrumb Dredge
Lay chicken out on a cutting board and cut 2 slices diagonally down the centre. This will help allow the sauce to sink in and the chicken bake better. 

In a small bowl, combine the butter, garlic, and cayenne (if using in this step). Microwave for a few seconds to melt. Add in the Dijon mustard and mix. Using a brush or spoon, spread the sauce over the chicken on both sides. Set aside. 

In a larger bowl, combine the bread crumbs, onion, Parmesan, paprika, and cayenne. Mix until well combined. 

Pick up the chicken thighs and dredge them in the breadcrumbs until completely covered. Place on a baking sheet lined with parchment paper. 

Place the chicken into a 425 degree F or 220 C preheated oven for 40 minutes or until cooked. 

Plate, serve, and enjoy your deviled chicken.
Servings 1
---
Amount Per Serving

% Daily Value *

Total Fat 17g

27

%

Saturated Fat 2.5g

13

%

Cholesterol 155mg

52

%

Sodium 1551mg

65

%

Potassium 1550mg

45

%

Protein 51g

102

%
---
* Percent Daily Values are based on a 2,000 calorie diet. Your daily value may be higher or lower depending on your calorie needs. Nutritional values are a within reason estimate and my vary depending on several factors.
Note
Marination Magic: Allow the chicken to marinate for at least 30 minutes to let the flavors penetrate the meat if you have time. For an even more intense taste, marinate it overnight in the refrigerator.

Adjusting Spice Levels: Feel free to customize the spice level according to your preferences. Add more or less Dijon or cayenne to suit your taste buds.

Choosing the Right Chicken: Opt for bone-in, skin-on chicken pieces for added flavor and moisture. Thighs and drumsticks work exceptionally well in this recipe.

Baking Tips: If you prefer a crispier skin, you can broil the chicken for a few minutes after baking to achieve that golden perfection. Keep a close eye on it to prevent burning.

Serving Suggestions: Pair your Deviled Chicken with a side of roasted vegetables, steamed rice, or a fresh salad for a well-balanced meal. A squeeze of lemon just before serving can enhance the overall taste.

Make it a Meal Prep: This recipe is perfect for meal prepping. Cook a batch on the weekend and enjoy it throughout the week. The flavors tend to deepen over time, making it even more delicious as leftovers.

Experiment with Herbs: Consider adding fresh herbs like cilantro, parsley, or thyme for an extra layer of fragrance and freshness. Garnish just before serving for a pop of color.

Dietary Modifications: Adjust the ingredients to fit your dietary preferences. For a healthier version, you can use skinless chicken or substitute certain ingredients based on your dietary needs.

Sharing is Caring: Share this delightful Deviled Chicken recipe with friends and family. It's a crowd-pleaser, and everyone will be asking for seconds!

Enjoy the Experience: Cooking is not just about the end result but also the joy of the process. Have fun in the kitchen, and don't be afraid to add your own twists to make this recipe uniquely yours!
Chicken Recipe, Spicy Chicken, Easy Chicken, Baked Chicken, Deviled Chicken