Welcome to our kitchen, where we're turning a classic dish into a culinary adventure! In today's video, we're showing you how to make Spaghetti and Meatball Nests – a fun and creative twist on the traditional spaghetti and meatballs.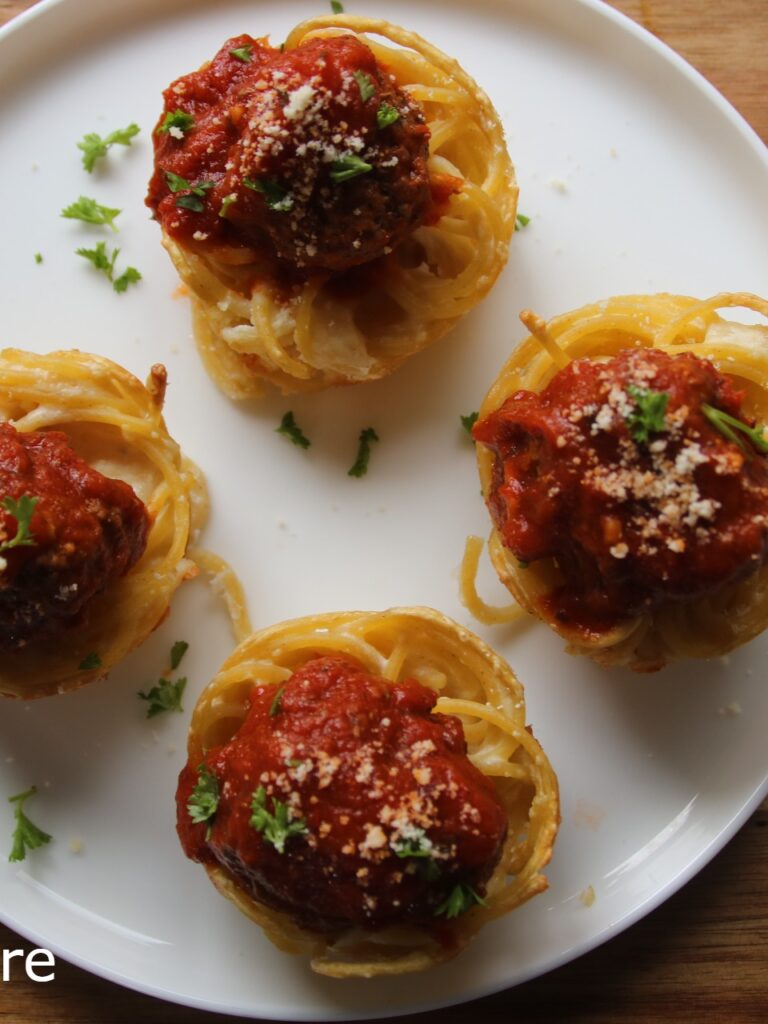 Spaghetti and Meatball Nests: A Fun Twist on a Classic Dish!
Description
Follow along as we take you through each step of the recipe. From shaping the spaghetti nests to preparing the perfect meatballs, we've got all the tips and tricks to ensure your dish turns out beautifully.
For the Meatballs and Sauce
For the Nests
Add the ground beef to bowl followed by the ketchup, Worcestershire sauce, garlic, onion powder, salt, and pepper. Break up the beef and mix until well combined. Then grab up some of the mixture in the palm of your hand and form it into a ball. Repeat the process for the rest of the ground beef. 

Place some oil into a pan over medium high heat. Put the meatballs in and fry until cooked though and browned. Pour the sauce in followed by the Italian seasoning, salt, and pepper. Stir and allow to simmer for 10 to 15 minutes. 

While the sauce is simmering, put the spaghetti into a pot of salted boiling water. Cook for about 12 minutes until al dente. Strain, rinse, and set aside in a bowl. 

Add the egg whites, Parmesan, and mozzarella to the spaghetti. Toss until well combined. 

Spray a muffin tray with Pam or oil. Pick up some of the spaghetti mixture and fill each muffin well. Place in a 400 degree F or 200 C preheated oven for about 12 to 15 minutes until golden brown. Remove and allow to cool. 

Place a meatball over each nest and pour some sauce over. Garnish with basil or parsley and a dusting of Parmesan. Serve and enjoy your spaghetti and meatball nests. 
Note
🌿 Customize Your Nest: Feel free to experiment with the spaghetti nest shape. Try making smaller nests for appetizers or larger ones for a more substantial meal. Get creative and have fun with it!
🍅 Sauce Selection: While a classic marinara sauce complements this dish perfectly, you can also explore other sauce options. Alfredo, pesto, or even a spicy arrabbiata sauce can add a unique twist to your Spaghetti and Meatball Nests.
🧀 Cheese Lovers, Rejoice: For an extra layer of flavor, consider adding a sprinkle of Parmesan or mozzarella cheese on top of the nests before baking. The cheese will melt and create a deliciously gooey texture.
🌶️ Spice It Up: Add a kick of spice by incorporating red pepper flakes into your meatball mixture or by choosing a spicy marinara sauce. Adjust the heat to your liking and make it a memorable, flavorful experience.
Spaghetti, Spaghetti and meat balls, nest, dinner recipe, midweek meals, snacks