🍁 Welcome to our kitchen, where we're embracing the cozy vibes of fall with this delicious Easy Country Apple Crumble recipe! 🍂🍎
There's nothing quite like the aroma of cinnamon and baked apples filling your home as the leaves start to turn. In this video, we'll show you how to make a mouthwatering apple crumble that's the perfect dessert for crisp autumn evenings or a comforting treat any time of year.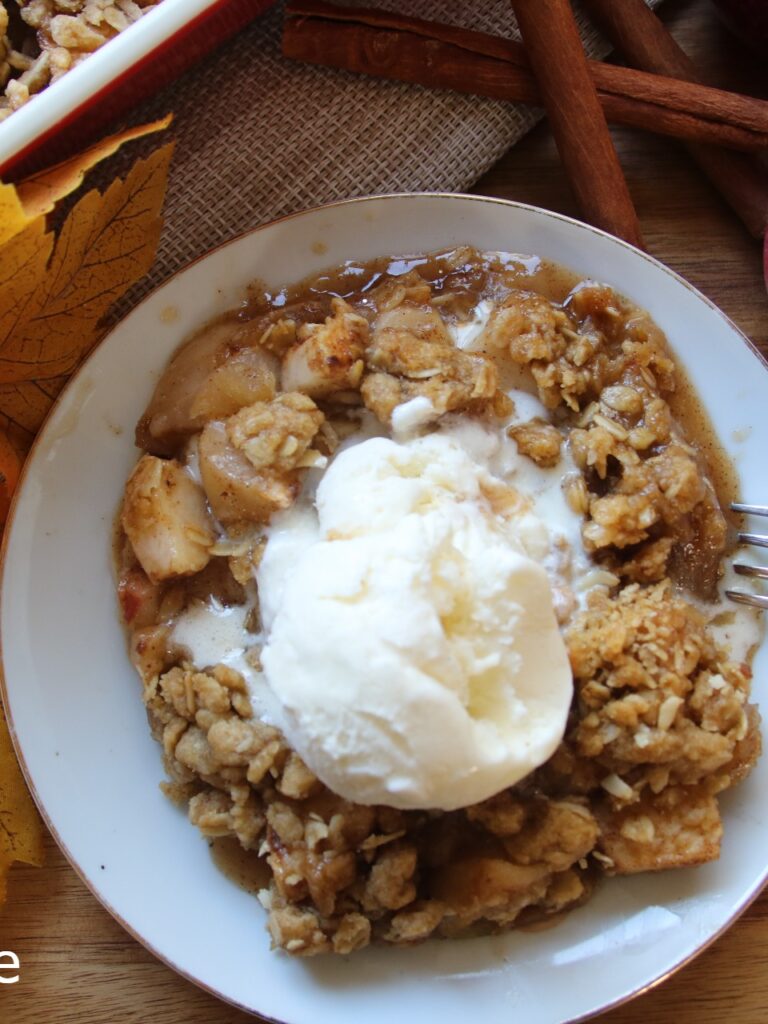 Easy Country Apple Crumble – Fall Delight
Description
This recipe is perfect for both beginners and seasoned bakers, with simple steps that yield a heavenly dessert. Plus, it's a great way to use up those apples you picked at the orchard or found at your local farmers' market.
For the Filling
For the Crumble
Add the apples, cinnamon, nutmeg, salt, flour, and sugar to the baking dish of your choice. You can use a bowl as well. The baking dish creates less dish washing. Use a spatula or spoon to mix until well combined. Set aside. 

Add the flour, oats, and sugar to a mixing bowl. Mix until well combined. Add in the butter. Using a pastry cutter or your hands mix until a crumble forms. It is much easier if the butter is super cold. 

Spread the crumble over the apple mixture. Be as rustic as you can, but ensure it spreads evenly. 

Place the apple crumble into a 350 degree F or 180 C preheated oven and bake for about 35 minutes. 

Serve and enjoy your easy country apple crumble. 
Servings 1
---
Amount Per Serving

% Daily Value *

Total Fat 9.6g

15

%

Saturated Fat 1.9g

10

%

Cholesterol 32mg

11

%

Sodium 990mg

42

%

Total Carbohydrate 86g

29

%

Dietary Fiber 4g

16

%

Sugars 56g

Protein 5g

10

%
---
* Percent Daily Values are based on a 2,000 calorie diet. Your daily value may be higher or lower depending on your calorie needs. Nutritional values are a within reason estimate and my vary depending on several factors.
Note
Apple Selection: Choose a mix of apple varieties for the best flavor and texture. Granny Smith apples provide a tart contrast to the sweetness, while Honeycrisp or Fuji apples add natural sweetness. You can also use a combination of these varieties.

Peeling and Slicing: Feel free to leave the peel on if you prefer a more rustic look and added fiber. However, peeling the apples ensures a smoother texture in the filling.

Spice it Up: Adjust the spices to suit your taste. If you love cinnamon, don't be shy to sprinkle a bit more, or add a pinch of cloves or allspice for extra warmth and depth of flavor.

Topping Texture: The crumble topping should be a mixture of butter, oats, flour, and sugar. You can use old-fashioned oats for a heartier texture or quick oats for a smoother one. If you're feeling adventurous, try adding chopped nuts like walnuts or pecans for a delightful crunch.

Butter Temperature: Make sure your butter is cold when you cut it into the topping mixture. Cold butter creates those irresistible buttery pockets in the crumble as it bakes.

Baking Dish: Use a baking dish that's deep enough to hold the apples and crumble topping without overflowing during baking. A 9x9-inch square dish or a similar-sized round dish works well.

Serve with Ice Cream: While the apple crumble is delightful on its own, a scoop of vanilla ice cream or a dollop of whipped cream takes it to the next level. The hot and cold contrast is pure bliss!

Storage: If you have leftovers (which is rare with this dessert), store them in an airtight container in the refrigerator. Reheat in the oven or microwave for a warm, comforting treat.
Apple Recipes, Apple Crumble, Easy Baking, Homemade Crumble, Fall Recipes