Welcome to our kitchen! In this episode, we're bringing you a mouthwatering recipe for 20-Minute Garlic Chicken with Homemade Gravy that you absolutely must try.
Are you looking for a quick and delicious dinner idea that will leave your taste buds dancing with joy? Look no further! In just 20 minutes, we'll show you how to create a flavorful garlic-infused chicken dish that's paired with a rich and creamy homemade gravy. It's a perfect meal for busy weeknights or when you want to impress your guests without spending hours in the kitchen.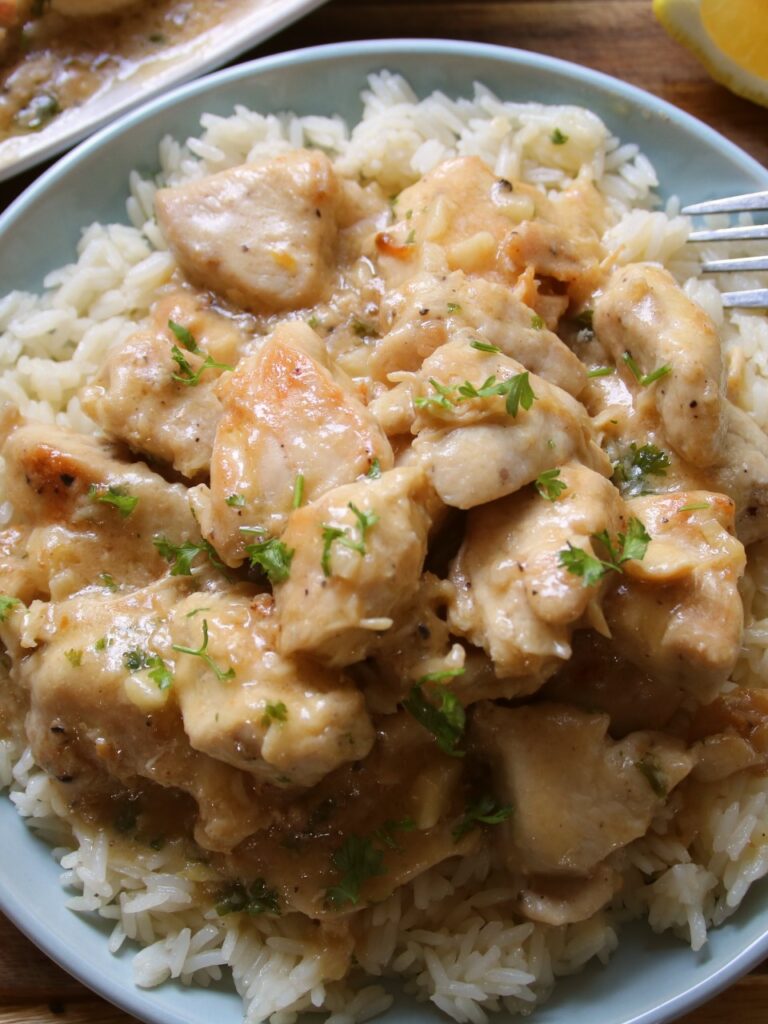 Easy Garlic Chicken with Gravy
Description
In this recipe, we'll walk you through each step of the cooking process, sharing valuable tips and tricks along the way. From preparing the garlic chicken to making the velvety gravy from scratch, you'll be amazed at how simple and rewarding this recipe is.
Add the chicken to a bowl. Place in the flour, salt, pepper, and garlic powder. Using your hands or a spoon, mix until the chicken is completely coated. 

Add the oil to a pan over medium high heat. Place the chicken in. Add in 1 tbsp of butter, the chopped garlic, and parsley.  Stir and saute until golden brown. This will take about 6 or 7 minutes depending on how big the cubes are. When done, place the chicken into a bowl. 

In the same pan, add in the tbsp of butter and flour. Do not clean the pan. Stir for a few minutes over medium heat until the butter melts and the flour begins to brown. Pour in half the chicken stock. Stir and scrape the bottom of the pan to deglaze it. After the gravy begins to thicken, add in the other half of the stock and continue to stir until thick. 

Place the chicken back in. Toss and stir until the chicken is completely coated with the gravy. 

Serve over hot rice or mashed potatoes. Enjoy your 20 minute garlic chicken. 
Servings 1
---
Amount Per Serving

% Daily Value *

Total Fat 9.2g

15

%

Saturated Fat 1.8g

9

%

Cholesterol 68mg

23

%

Sodium 415mg

18

%

Potassium 720mg

21

%

Total Carbohydrate 35g

12

%

Dietary Fiber 6.3g

26

%

Sugars 4.2g

Protein 32.8g

66

%
---
* Percent Daily Values are based on a 2,000 calorie diet. Your daily value may be higher or lower depending on your calorie needs. Nutritional values are a within reason estimate and my vary depending on several factors.
Note
Chicken Choice: You can use boneless, skinless chicken breasts or chicken thighs for this recipe. Both work well, so choose your favorite or use whatever you have on hand.

Fresh Garlic: While we use fresh garlic cloves in this recipe, you can also substitute with minced garlic if you're short on time. Typically, 1 teaspoon of minced garlic equals one fresh garlic clove.

Seasoning: Adjust the salt, pepper, and other seasonings to suit your taste. Feel free to add herbs like thyme or rosemary for an extra layer of flavor.

Searing the Chicken: Make sure to sear the chicken in a hot pan. This step creates a nice golden-brown crust and seals in the juices. Avoid overcrowding the pan; cook the chicken in batches if needed.

Homemade Gravy: Making gravy from scratch is simple but requires constant stirring. Be patient and keep stirring to prevent lumps. If you do get lumps, you can strain the gravy to make it silky smooth.

Consistency: Adjust the gravy's thickness by adding more or less chicken broth. If it's too thick, add more broth; if it's too thin, simmer a bit longer to reduce it.

Serving Suggestions: Serve this garlic chicken with gravy over cooked rice, mashed potatoes, pasta, or with a side of steamed vegetables. It's also great with crusty bread to soak up that delicious gravy.

Customization: Get creative with this recipe! You can add sautéed mushrooms, caramelized onions, or even a splash of white wine to the gravy for additional depth of flavor.
Chicken Recipe, 30 Minute Recipes, Chicken and Gravy, Midweek Meals