Welcome to our blog! In this recipe, we're bringing you the ultimate comfort food recipe: Farmhouse Beefy Mac and Cheese. Get ready for a hearty, cheesy dish that will satisfy your cravings and transport your taste buds to the countryside.
Our Farmhouse Beefy Mac and Cheese is a delightful twist on the classic macaroni and cheese recipe. We've added ground beef to the mix, creating a rich and savory flavor combination that's simply irresistible.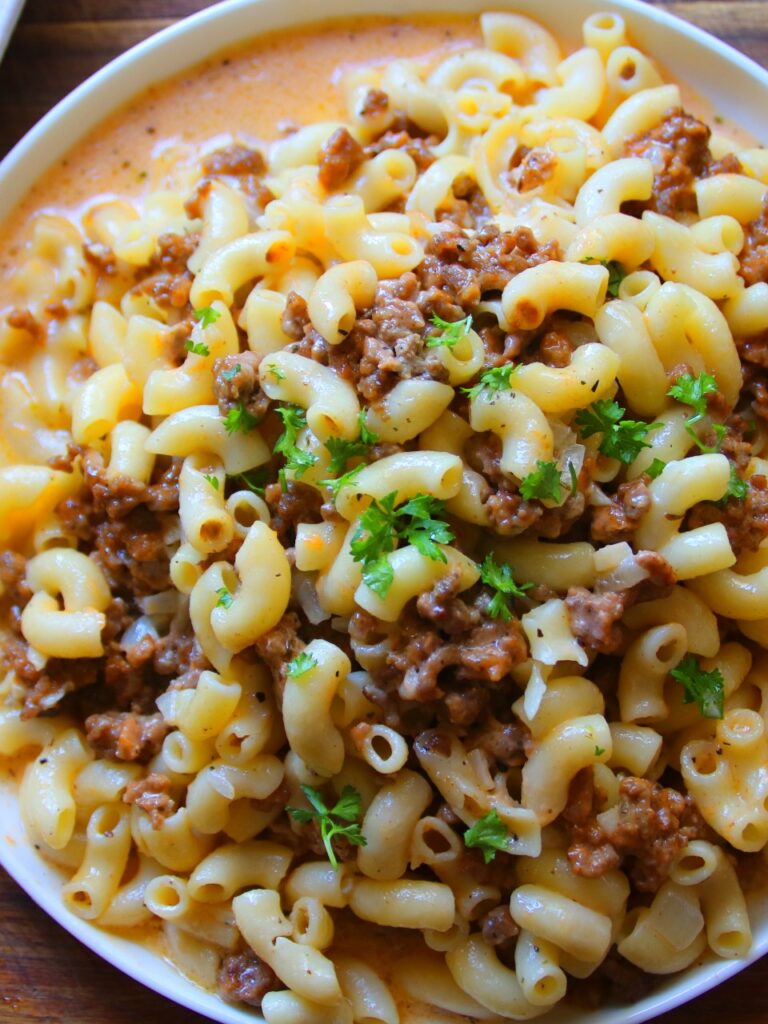 Farmhouse Beefy Mac and Cheese Recipe
Description
we'll take you through every step of the cooking process, from browning the beef to preparing the creamy cheese sauce and assembling the casserole. You'll see how easy it is to create this delicious meal in your own kitchen, making it perfect for a cozy family dinner or a gathering with friends.
Add 1 tsp of salt to a pot of water and bring to a boil. Add the noodles in, stirring occasionally,  cook for 9 or 10 minutes until al dente. Drain, and set aside. Do not rinse. 

Add some oil to a pan over medium high heat. Place the beef in and fry until cooked through. Move the beef to one side and add in the onion, garlic, salt, pepper, and Italian seasoning. Stir and saute for about 2 or 3 minutes. 

Add the noodles in and mix until well combined. Put the cheese and milk in and stir once again until the cheese melts and the dish becomes creamy.

Plate and garnish with parsley. Enjoy your beefy farmhouse mac and cheese!
Servings 1
---
Amount Per Serving

% Daily Value *

Total Fat 8.2g

13

%

Saturated Fat 2.3g

12

%

Trans Fat 0.3g

Cholesterol 35mg

12

%

Sodium 710mg

30

%

Potassium 620mg

18

%

Total Carbohydrate 43g

15

%

Dietary Fiber 4.2g

17

%

Sugars 9.1g

Protein 16.2g

33

%
---
* Percent Daily Values are based on a 2,000 calorie diet. Your daily value may be higher or lower depending on your calorie needs. Nutritional values are a within reason estimate and my vary depending on several factors.
Note
Choose the Right Beef: For this Farmhouse Beefy Mac and Cheese, you can use ground beef, diced stewing beef, or even leftover roast beef. Just ensure it's cooked and seasoned to your liking before incorporating it into the dish.

Cheese Selection: We use old sharp cheddar but you can use a combination of cheddar and mozzarella cheese for that perfect melt and flavor, feel free to experiment with other cheese varieties like Gruyère, Monterey Jack, or Swiss for added depth and creaminess.

Seasoning: Don't forget to season your beef and cheese sauce adequately. Salt, pepper, garlic powder, and a pinch of paprika can enhance the flavors. Taste as you go and adjust to your preference.

Pasta Choice: Elbow macaroni is the classic choice for mac and cheese, but you can use other pasta shapes like penne, rigatoni, or rotini for a unique twist.

Serving Suggestions: Farmhouse Beefy Mac and Cheese is a hearty dish on its own, but it pairs wonderfully with a side salad, steamed vegetables, or a slice of garlic bread.

Leftovers: If you have leftovers, store them in an airtight container in the refrigerator.
Mac and Cheese, 30 Minutes Recipes, Dinner, Midweek Meals, Ground Beef