Corn and Chicken Tacos are a true culinary gem. With their combination of tender, seasoned chicken and the sweet and smoky flavors of grilled corn, these tacos are a feast for the senses. We'll guide you through the process of creating perfectly seasoned and grilled chicken, along with a delicious corn salsa that adds a burst of freshness to each bite.
In this recipe, we'll share our step-by-step recipe, providing you with all the tips and tricks to make your Corn and Chicken Tacos truly exceptional. From selecting the juiciest chicken to achieving that perfect char on the corn, we'll walk you through each stage of the process.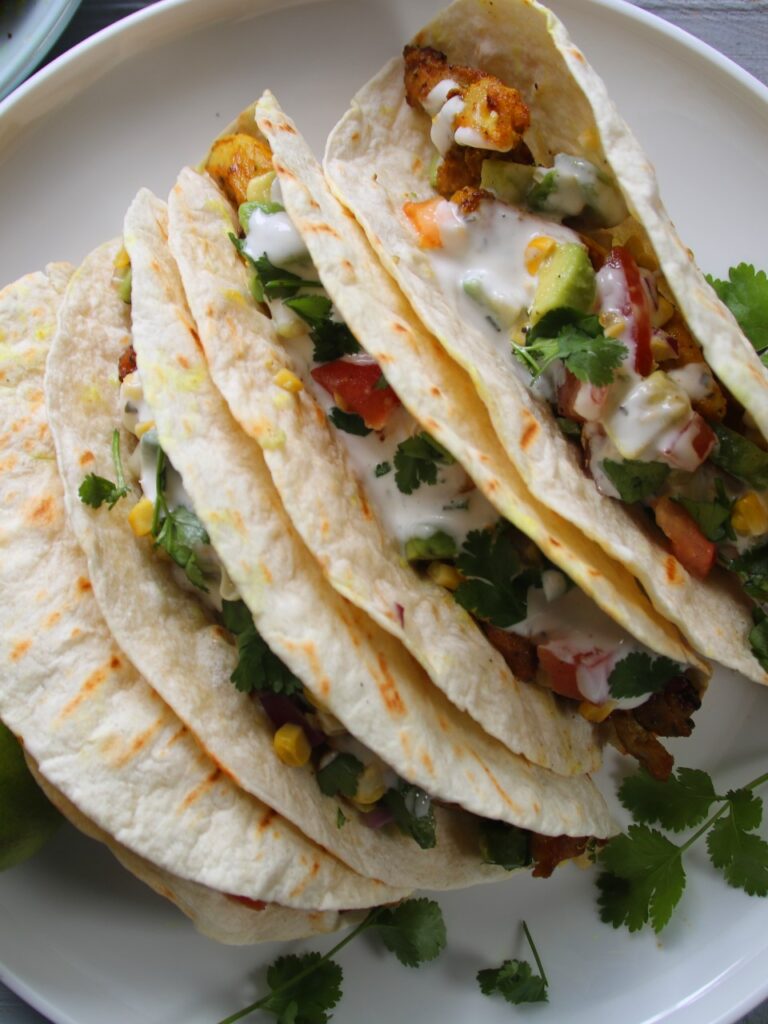 Street Food Delight: Corn and Chicken Tacos
Description
Join us as we dive into the world of Mexican street food and discover the art of making Corn and Chicken Tacos done right. These tacos are perfect for a casual dinner, a backyard barbecue, or any gathering where you want to impress your friends and family with delicious and authentic flavors.
For the Chicken
For the Salsa
To Build the Taco
Add all the chicken and all the seasoning to a bowl. Mix until the chicken is completely coated. Set aside in the fridge for at least 30 minutes. Overnight is best if you have time. 

Remove the husk from the corn and wash it. Sprinkle on the oil, chilli powder, salt, and pepper. Place on the grill and cook for about 20 minutes until soft. You can also boil or bake the corn. 

Allow the corn to cool and cut the kernels off using a good sharp knife.  

Add the corn and the rest of the salsa ingredients to a bowl and mix until well combined. 

Place the tortilla wrappers on the grill and fry for about 2 minutes on each side. I place mine on an upside-down muffin tray, push down in the centre with tongs, and it makes the perfect tortilla shape. If you are using taco shells, there is no need for this of course. 

Place the chicken onto the grill and fry, turning occasionally, until golden brown and cooked through. 

To build the taco, add the chicken, salsa, and ranch dressing on. Garnish with fresh cilantro.

Serve and enjoy your corn and chicken tacos. 
Servings 1
---
Amount Per Serving

% Daily Value *

Total Fat 10g

16

%

Saturated Fat 2g

10

%

Cholesterol 115mg

39

%

Sodium 415mg

18

%

Total Carbohydrate 43g

15

%

Dietary Fiber 3g

12

%

Sugars 1g

Protein 35g

70

%
---
* Percent Daily Values are based on a 2,000 calorie diet. Your daily value may be higher or lower depending on your calorie needs. Nutritional values are a within reason estimate and my vary depending on several factors.
Note
Chicken Marination: To enhance the flavors of the chicken, consider marinating it for at least 30 minutes before cooking. 

Grilling Option: If you prefer a smoky flavor, you can grill the marinated chicken instead of pan-frying it. Preheat the grill to medium-high heat and cook the chicken until it reaches an internal temperature of 165°F (74°C). This grilling method will impart a delicious charred flavor to the meat.

Tortilla Selection: Choose soft corn tortillas for an authentic street food experience. You can warm them up by heating them in a dry skillet for a few seconds on each side or by placing them directly on a stovetop burner for a quick char. This will make them pliable and enhance their taste.

Salsa Variations: Experiment with different salsa flavors other than the one suggested to further elevate your tacos. Classic options like pico de gallo (fresh tomato salsa), salsa verde (green salsa), or salsa roja (red salsa) work great. You can also explore more unique options such as pineapple salsa, corn and black bean salsa, or mango habanero salsa. These variations will add a burst of freshness and complementary flavors to the dish.

Toppings and Garnishes: Don't limit yourself to just the basic toppings. Consider adding additional ingredients like sliced avocado or guacamole, crumbled cotija or queso fresco cheese, chopped cilantro, diced red onions, or pickled jalapeños for added texture and flavor. These toppings will provide a vibrant and well-rounded taste to your tacos.

Lime Wedges: Serving lime wedges alongside the tacos allows individuals to squeeze fresh lime juice over their tacos, adding a bright, tangy element that enhances the overall flavor profile. Encourage your guests to squeeze some lime juice on top before taking a bite.

Accompaniments: To complete the street food experience, consider serving your Corn and Chicken Tacos with traditional side dishes like Mexican street corn (elote), Mexican rice, or refried beans. These sides will complement the flavors of the tacos and create a well-rounded and satisfying meal.

Customization: Feel free to customize the recipe based on personal preferences. You can incorporate additional vegetables like bell peppers or zucchini into the filling for added texture and nutrition. Additionally, you can adjust the spice level by increasing or decreasing the amount of chili powder or hot sauce used in the marinade or salsa.
Remember, street food is all about enjoying the vibrant flavors and creating a fun and casual dining experience. So get creative, experiment with different ingredients and variations, and have fun while making and savoring your Corn and Chicken Tacos Done Right!
Tacos, Snacks, Street Food, Mexican Food, Tortillas