Welcome to Cook n' Share, where we bring you incredible budget meal ideas that don't compromise on taste! In this episode, we're thrilled to present our recipe for Bang Bang Chicken cooked in just 30 minutes.
If you're looking for a flavorful, budget-friendly meal that will satisfy your cravings, this recipe is a game-changer. With simple and affordable ingredients, we'll show you how to create a mouthwatering dish that will leave your taste buds tingling.
In this recipe, we'll take you step by step through the process, sharing our tips and tricks to ensure your Bang Bang Chicken turns out perfectly every time. From the chicken coated in a creamy, tangy sauce to the aromatic blend of spices, this recipe is a winner.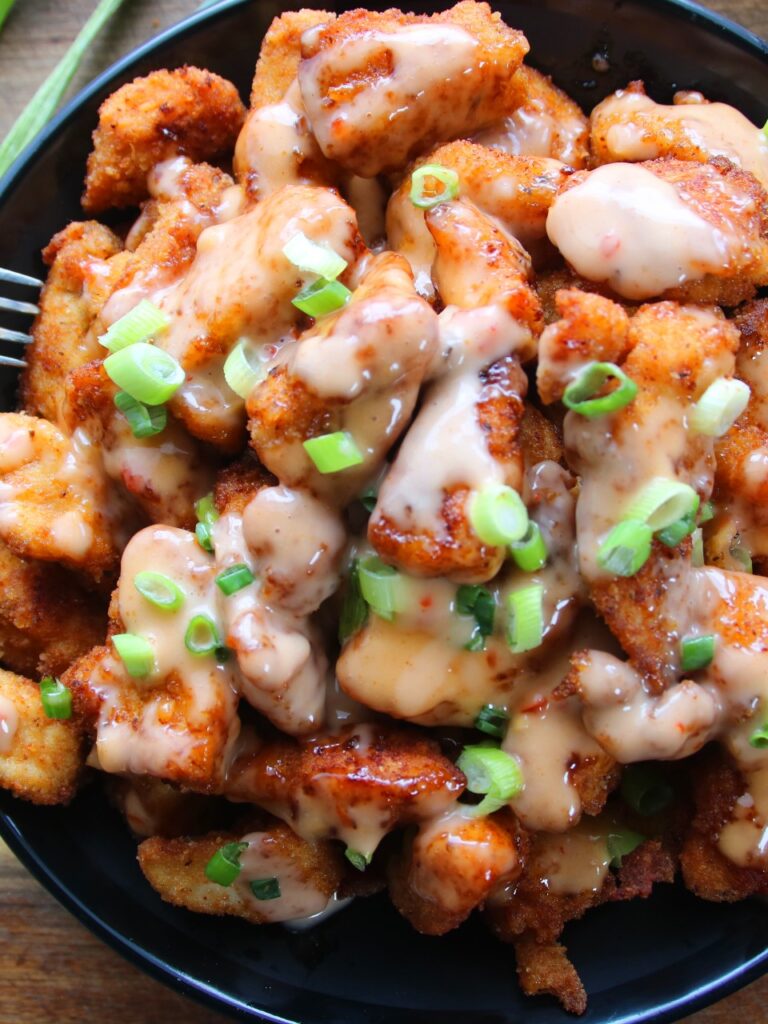 Budget Meal Magic: Bang Bang Chicken Whipped up in Just 30 Minutes!
Description
We understand that time is precious, especially when it comes to meal preparation. That's why we've designed this recipe to be ready in just 30 minutes, making it an ideal option for busy weeknights or when you need a quick and satisfying meal on the table.
For the Chicken
For the Coating
For the Sauce
Other
Put the chicken into a bowl and add in the salt, pepper, and egg. Mix until the chicken is coated. 

Add the coating ingredients to a second bowl. Whisk until well combined. 

Add the ingredients for the sauce into a third bowl. Mix until well incorporated. 

Pour the oil into a pan or deep fryer. Heat it to 350 degrees F or 180 C. Place the chicken in. Fry, in batches, until it is golden brown. Set is aside on a wire rack to drain excess oil. 

Place the chicken into a bowl or on a plate. Drizzle the sauce over and garnish with green onions. 

Serve and enjoy your bang bang chicken. 
---
Amount Per Serving

% Daily Value *

Total Fat 16g

25

%

Saturated Fat 2.6g

13

%

Cholesterol 46mg

16

%

Sodium 999mg

42

%

Total Carbohydrate 21g

8

%

Dietary Fiber 2.2g

9

%

Sugars 9.7g

Protein 20g

40

%
---
* Percent Daily Values are based on a 2,000 calorie diet. Your daily value may be higher or lower depending on your calorie needs. Nutritional values are a within reason estimate and my vary depending on several factors.
Note
Chicken: We recommend using boneless, skinless chicken breasts or chicken tenderloins for this recipe. They cook quickly and have a tender texture. However, you can also use boneless, skinless chicken thighs if you prefer dark meat.

Coating: To achieve a crispy exterior on the chicken, coat it in a mixture of cornstarch and spices before frying. This helps create a deliciously crunchy texture.

Frying: Heat oil in a pan or skillet over medium-high heat for frying the chicken. Make sure the oil is hot enough before adding the chicken pieces. You can test the temperature by dropping a small piece of breaded chicken into the oil – it should sizzle and start browning immediately.

Bang Bang Sauce: The sauce is the star of this dish, providing a creamy and tangy flavor. The key ingredients for the sauce are mayonnaise, sweet chili sauce, and a touch of honey. Feel free to adjust the sweetness or spiciness according to your preference. You can also add a squeeze of lime juice for a zesty twist.

Assembly: Once the chicken is cooked and crispy, remove it from the pan and let it drain on a paper towel to remove any excess oil. Garnish with some chopped green onions or sesame seeds for added flavor and presentation.

Serving Suggestions: Bang Bang Chicken goes great with steamed rice or noodles. You can also serve it with a side of fresh vegetables, such as steamed broccoli or a crisp salad, to balance the richness of the dish.

Storage: If you have leftovers, store the chicken and sauce separately in airtight containers in the refrigerator. The chicken may lose some crispiness when reheated, but it will still be delicious. Reheat in the oven or microwave until warmed through.
Enjoy the incredible flavors of this budget-friendly Bang Bang Chicken recipe in just 30 minutes! Don't forget to share your creations with us and tag us on social media. Happy cooking!
Chicken Recipe, Snacks, 30 Minute Meals, Chicken Nuggets