Today, we are thrilled to present to you a culinary masterpiece: "The Most Unique Delicious Chicken Dinner You'll Ever Make," featuring both chicken rice and poached chicken. Get ready to embark on a gastronomic adventure that will revolutionize your dinner table.
In this recipe, we will guide you through the process of creating a truly extraordinary meal. We'll combine tender, poached chicken and 4 sauces to create a symphony of flavors that will leave you speechless.
Prepare to be amazed as we introduce a range of unique ingredients, seasoning, and techniques that will elevate your cooking game to new heights. We have meticulously crafted this recipe to ensure a perfect balance of textures and flavors, resulting in a dining experience like no other.
With step-by-step instructions, we'll show you how to poach the chicken to perfection, ensuring it remains tender and succulent. Then, we'll guide you through the process of preparing the chicken rice, infusing it with aromatic spices and seasonings that will take it to a whole new level.
From the moment you start cooking, your kitchen will be filled with tantalizing aromas that will whet your appetite and captivate your senses. The combination of the fragrant rice, delicately poached chicken, and unique flavors will create a dish that is both visually stunning and incredibly delicious.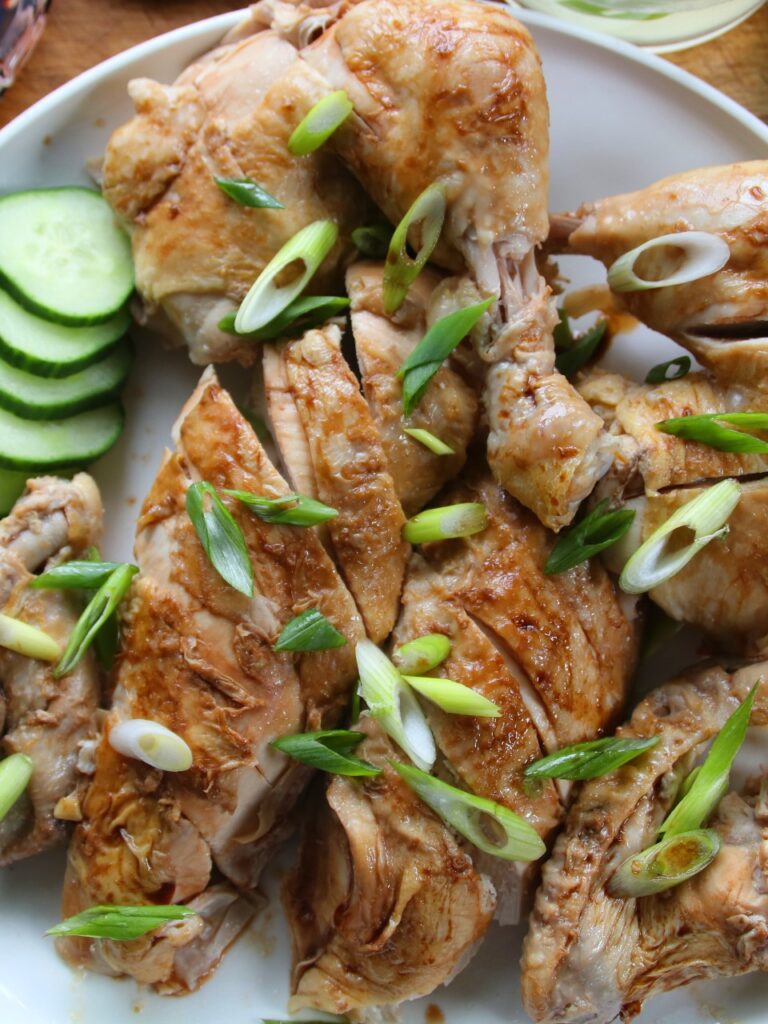 Chicken Rice | Poached Chicken Dinner
Description
Whether you're a seasoned chef or a novice in the kitchen, this recipe is designed to be accessible and achievable for all skill levels. So, gather your ingredients, sharpen your knives, and get ready to create a dining experience that will be remembered for years to come.
For the Chicken and Stuffing
For the Sauces
Coat the chicken on all sides with salt and rub it into the bird. Rinse with cold water.

Stuff the cavity of the chicken with the green onion, yellow onion, and ginger. Tie the legs together with butcher twine. 

Add the chicken to large pot, breast side down, and pour enough water over to cover the chicken. Place a lid on the pot and bring it to a boil Reduce the heat to low and allow the chicken to simmer, over a soft boil, for 45 minutes. 

To make the sauces combine the ginger, garlic, and lemon juice to a bowl. Mix until well combined. Add the sriracha, sweet chilli sauce, and soy sauce 23 other bowls.

After 45 minutes, remove the chicken and place it directly into an ice bath for about 10 minutes. 

Combine the soy sauce and sesame sauce to a separate bowl and mix. Brush the sauce over the chicken. 

Carve the chicken into legs, breasts, and wings, and present on a plate. Garnish with the green onion. 

Serve with the sauce and rice. Enjoy!
Serving Size 86g
Servings 1
---
Amount Per Serving

% Daily Value *

Total Fat 3.1g

5

%

Saturated Fat 0.9g

5

%

Cholesterol 73mg

25

%

Sodium 320mg

14

%

Potassium 360mg

11

%

Protein 27g

54

%
---
* Percent Daily Values are based on a 2,000 calorie diet. Your daily value may be higher or lower depending on your calorie needs. Nutritional values are a within reason estimate and my vary depending on several factors.
Note
Poaching Liquid: Create a flavorful poaching liquid by combining chicken broth, herbs (such as thyme, rosemary, or bay leaves), garlic, and a touch of salt and pepper if you wish. Feel free to add other seasonings or aromatics according to your taste preferences.

Chicken Rice Preparation: While the chicken is poaching, prepare the sauces. 

Resting the Chicken: Once the chicken is fully cooked, remove it from the poaching liquid and place it in the ice bath immediately.

Serving Suggestions: When serving, slice the poached chicken into thin, even pieces and arrange them on a bed of flavorful chicken rice if you wish. 

Customize and Experiment: Feel free to customize this recipe to your liking by incorporating additional vegetables, sauces, or spices. You can add steamed vegetables like broccoli or carrots to the dish for a balanced meal, or try different sauce variations like a creamy mushroom sauce or a tangy lemon butter sauce.
Remember, cooking is an art, and you have the freedom to experiment and make the recipe your own. Enjoy the process, savor the flavors, and share this unique and delicious chicken dinner with your loved ones. Happy cooking!
Chicken Rice, Poached Chicken, Chicken Dinner, Chicken with Sauce