In this recipe, we're bringing you a fantastic recipe for Penny Pincher Porcupine Meatballs in Rich Tomato Sauce. If you're looking for a budget-friendly yet delicious meal that will satisfy your taste buds, you've come to the right place!
Our Penny Pincher Porcupine Meatballs are packed with flavor and perfectly complemented by a luscious tomato sauce. These meatballs are made with a clever twist using rice, which adds a delightful texture and helps stretch your budget. Not only are they affordable, but they're also incredibly easy to make.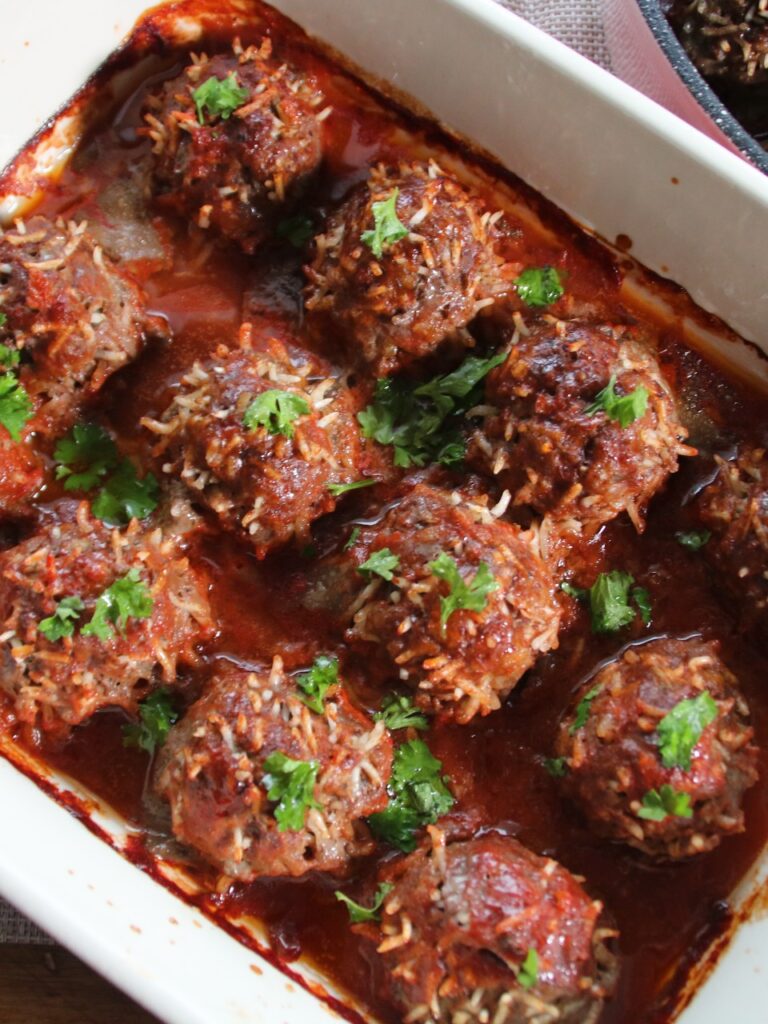 Penny Pincher Porcupine Meatballs in Rich Tomato Sauce
Description
Join us as we take you step by step through the process of creating these mouthwatering meatballs. From shaping the meat mixture into adorable porcupine-like balls to simmering them in a rich tomato sauce, we'll guide you every step of the way.
For the Meatballs
Making the Sauce
Add all the ingredients for the meatballs to a mixing bowl. Using your hands or a spoon, mix until well combined. 

Scoop up a handful of the mixture and place it in the palm of your hand. Form it into a ball and place it in a preferred baking dish. Repeat this for the remaining mixture. 

Pour all of the ingredients for the sauce into a large measuring cup or bowl. Mix until well combined. Pour the mixture over the meatballs. 

Place into a 350 degree F or 180 C preheated oven for 50 to 60 minutes. 

Remove the meatballs from the oven, garnish with parsley, severe, and enjoy. 
Servings 1
---
Amount Per Serving

% Daily Value *

Total Fat 24g

37

%

Saturated Fat 9.5g

48

%

Cholesterol 85mg

29

%

Sodium 1251mg

53

%

Potassium 680mg

20

%

Total Carbohydrate 21.3g

8

%

Dietary Fiber 1.9g

8

%

Sugars 6g

Protein 34g

68

%
---
* Percent Daily Values are based on a 2,000 calorie diet. Your daily value may be higher or lower depending on your calorie needs. Nutritional values are a within reason estimate and my vary depending on several factors.
Note
Feel free to customize the seasonings in the meatball mixture according to your taste preferences. You can add herbs like parsley, oregano, or basil for extra flavor.
For a healthier twist, you can use lean ground turkey or chicken instead of beef.
To ensure the meatballs hold their shape while cooking, it's essential to thoroughly mix the meat mixture and allow it to rest for a few minutes before shaping them.
If you prefer a spicier tomato sauce, you can add a pinch of red pepper flakes or a dash of hot sauce to give it a kick.
Serve the Penny Pincher Porcupine Meatballs over cooked pasta, rice, or with a side of crusty bread for a complete and satisfying meal.
This recipe is perfect for meal prep or batch cooking. You can make a large batch of meatballs and freeze them for later use. Just thaw them in the refrigerator overnight before reheating.
Feel free to garnish the dish with grated Parmesan cheese and fresh herbs for an extra touch of flavor and presentation.
Leftovers can be stored in an airtight container in the refrigerator for up to 3 days. Reheat them in the microwave or on the stovetop for a quick and delicious meal.
Don't be afraid to experiment with different ingredients or add vegetables like bell peppers or spinach to the sauce for added nutrition and flavor.
Enjoy these Penny Pincher Porcupine Meatballs in Rich Tomato Sauce as a comforting and budget-friendly meal that will surely become a family favorite!
Meatballs Recipe, Porcupine Meatballs,Budget Recipes, Dinner Recipe