In this recipe, we are bringing you a chicken salad recipe that is like nothing you've ever tried before. Get ready to tantalize your taste buds with a unique blend of flavors and textures that will leave you craving for more.
Our innovative chicken salad takes the traditional recipe to a whole new level. We've combined tender, juicy chicken breasts with a medley of fresh and vibrant ingredients, creating a colorful and nutritious base for our salad. But that's not all! We've also added secret ingredients that adds an unexpected twist and elevates the taste to new heights.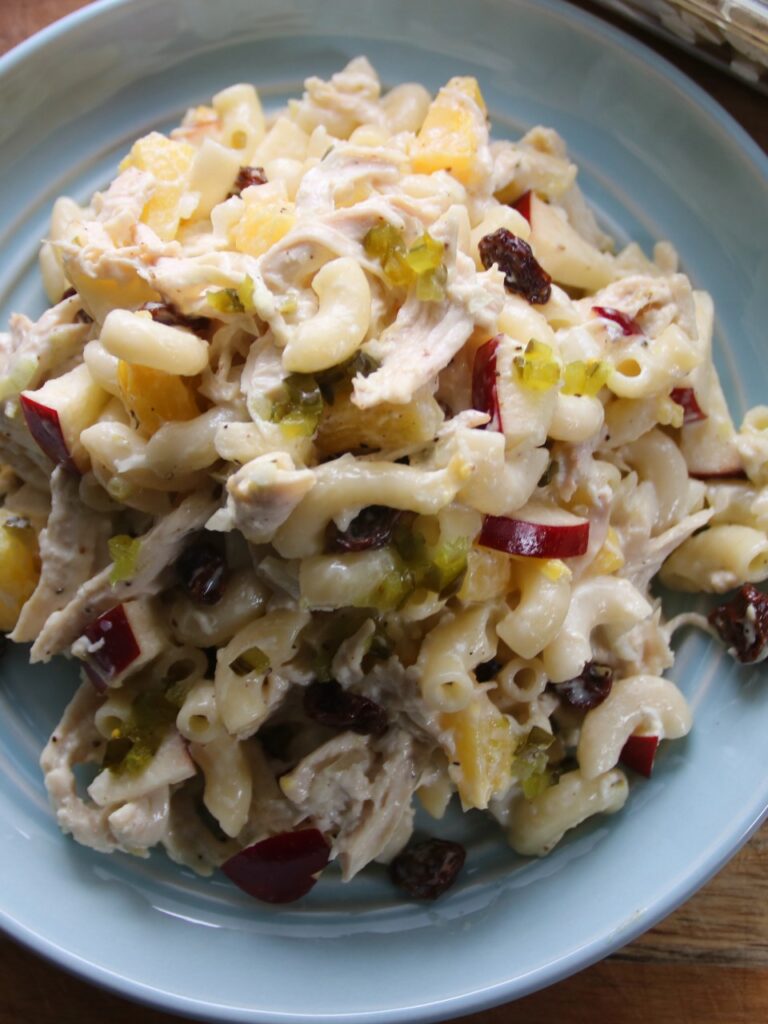 THIS Chicken Salad is like NOTHING You've Ever Tried Before!
Description
Join us as we guide you through the step-by-step process of preparing this extraordinary chicken salad. From preparing the chicken to chopping the vegetables, we'll show you every detail to ensure your salad turns out perfectly.
Add the chicken breasts to a pot of boiling water and cook for about 20 minutes. Remove and set aside to cool. Once cooled, shred using two forks or you hands. 

Add the noodles to a pot of boiling water and cook for about 9 or 10 minutes until al dente. Drain and add to a boil. 

To the noodles, add the onion, apple, pineapple, raisins, relish, chicken, mayo, salt, pepper, and garlic powder. Toss until well combined. 

Refrigerate for 2 hours or overnight.  

Serve and enjoy your chicken salad. 
Servings 1
---
Amount Per Serving

% Daily Value *

Total Fat 25g

39

%

Saturated Fat 6.2g

31

%

Cholesterol 76mg

26

%

Sodium 550mg

23

%

Potassium 580mg

17

%

Total Carbohydrate 5.4g

2

%

Dietary Fiber 0.6g

3

%

Sugars 3.2g

Protein 28g

57

%
---
* Percent Daily Values are based on a 2,000 calorie diet. Your daily value may be higher or lower depending on your calorie needs. Nutritional values are a within reason estimate and my vary depending on several factors.
Note
Chicken: For the best results, use boneless, skinless chicken breasts. You can either grill, bake, or poach the chicken. Make sure to season it with salt and pepper before cooking to enhance the flavor.

Vegetables: Feel free to customize the vegetables in your salad. 

Secret Ingredient: Our secret ingredient that sets this chicken salad apart is a hint of curry powder. It adds a delightful aroma and subtle depth of flavor. Adjust the amount according to your preference, but be cautious not to overpower the other ingredients.

Serving Suggestions: This chicken salad is versatile and can be enjoyed in various ways. Serve it chilled on a bed of lettuce leaves or in a sandwich with your favorite bread. It also makes a delicious topping for crackers or a filling for wraps. Get creative and explore different serving options.

Storage: If you have any leftovers, store them in an airtight container in the refrigerator for up to 3 days. Give the salad a quick toss before serving again to redistribute the dressing.
Now that you have all the recipe notes, it's time to get cooking and experience the extraordinary flavors of this unique chicken salad. Enjoy!
Chicken Recipe, Chicken Salad, Summer Recipes, Picnic Recipes