Looking for a delicious and hassle-free recipe for cheeseburger sliders? Look no further than this video, where we'll show you step-by-step how to make the easiest cheeseburger sliders you will ever make!
In just a few simple steps, you'll have mouthwatering sliders that are perfect for any occasion, from a family dinner to a backyard barbecue. We'll walk you through every step of the process.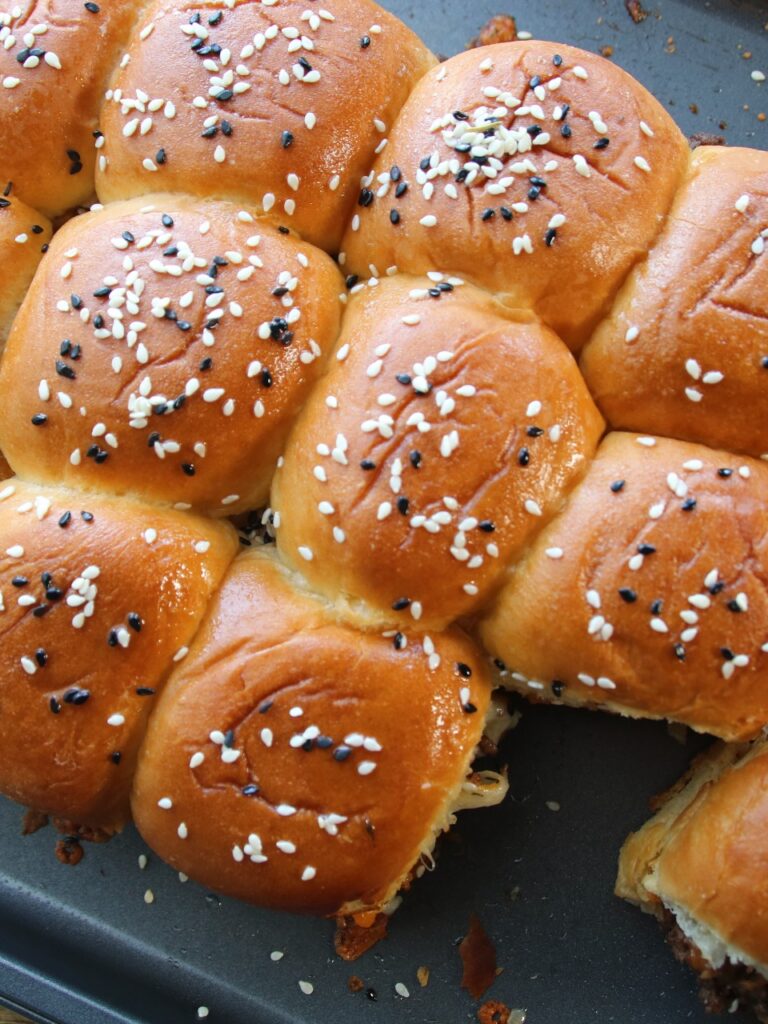 The Easiest Cheeseburger Sliders You Will Ever Make!
Description
And the best part? These cheeseburger sliders are so easy to make that even novice cooks can whip them up in no time! So if you're looking for a quick and delicious meal that's sure to impress your friends and family, be sure to check out this video and learn how to make the easiest cheeseburger sliders you will ever make!
Add the oil to a pan over medium high heat. Put the ground beef in and fry until browned.

Add in the onion and garlic. Saute for about 3 minutes until fragrant. Season with salt, pepper, and Italian seasoning. Add in the Worcestershire sauce and BBQ sauce. Mix until well combined. Simmer for a few minutes and set aside.  

Cut the dinner rolls in half horizontally. Leave them attached to each other but cut down the middle. Lay the bottom of the buns on a baking tray and brush some butter over them. Grab up a handful of the mozzarella cheese and spread it over the buns followed by the ground beef mixture. Spread the cheddar cheese over the top and lay the top layer of buns over. Brush with butter and dust with the sesame seeds. 

Place the sliders in a preheated oven for about 10 - 15 minutes until the cheese melts. 

Serve and enjoy your easy cheeseburger sliders. 
---
Amount Per Serving

% Daily Value *

Total Fat 22g

34

%

Saturated Fat 7g

35

%

Cholesterol 85mg

29

%

Sodium 920mg

39

%

Total Carbohydrate 45g

15

%

Dietary Fiber 7g

29

%

Sugars 14g

Protein 39g

78

%
---
* Percent Daily Values are based on a 2,000 calorie diet. Your daily value may be higher or lower depending on your calorie needs. Nutritional values are a within reason estimate and my vary depending on several factors.
Note
Choose the right meat: Use ground beef that has a fat content of around 80% for the juiciest and most flavorful sliders. You can also use ground turkey or chicken if you prefer.

Use dinner rolls: Instead of using traditional slider buns, try using dinner rolls for a softer and more tender texture. Make sure the rolls are small enough to fit your patties comfortably.

Add cheese: Top each patty with a slice of cheese (cheddar, American, or any other type you like) during the last minute of cooking. The cheese will melt perfectly and add even more flavor to your sliders.

Add toppings: Customize your sliders with your favorite toppings, such as lettuce, tomato, onion, pickles, ketchup, mustard, mayo, or barbecue sauce.

Serve immediately: Cheeseburger sliders are best served hot and fresh, so assemble them right before serving. Enjoy!
Hamburgers, Cheeseburgers, Sliders, Ground Beef, Dinner, Party