Chicken
Chicken Macaroni Salad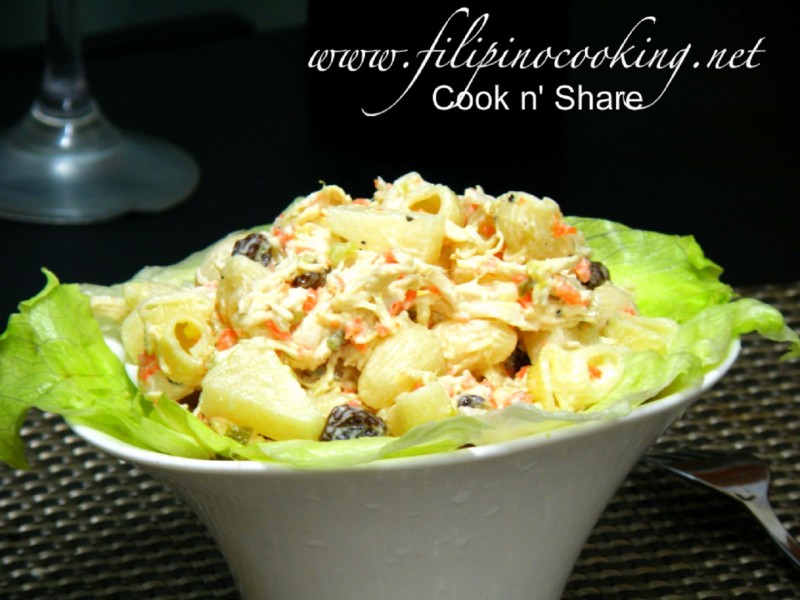 Chicken macaroni salad is one of the most popular salads in many countries. It makes an excellent side dish with many meals. It is fantastic for picnics or barbecues. This dish can be made with chunks of chicken. However, if the meat is shredded, then the flavor will blend better with the ingredients. This recipe is exceptionally pleasant and tasty. Serve this dish at Christmas, New Years, or at any Fiesta. It will be a guaranteed hit.

Ingredients:
150 g elbow macaroni boiled and drain
1/2 kilo chicken boiled and shredded
1 medium onion finely chopped
1 big can pineapple chunks drained
1 small carrot diced
3 tbsp pickle relish
1/4 cup raisins
1/2 cup mayonnaise
salt and pepper to taste
Servings: 4
Time: 30 minutes
Level: Easy
Cuisine: Filipino, American
Add to Recipe Box
Recipe Rating:
(5 / 5)
Cooking Video:
Directions:
Cook macaroni noodles according to package directions.
Boil chicken breasts until tender. Drain and shred. Set aside.
Drain pineapple chunks and discard the juice. Set aside.
In large mixing bowl, combine all ingredients including chicken and cooked macaroni noodles. Salt and pepper to taste.
Keep refrigerated and serve.
Share This Recipe