Welcome to our Cook n' Share! In today's video, we're excited to share with you our delicious and budget-friendly recipe for Affordable French Onion Meatball Casserole. This comforting dish combines the rich flavors of French onion soup with the heartiness of meatballs, all baked to perfection in a flavorful casserole.
In this easy-to-follow tutorial, we'll guide you through every step of the recipe, from making tender and flavorful meatballs to preparing the luscious French onion sauce. Our secret ingredient? Caramelized onions, which add a deep, sweet flavor that perfectly complements the savory meatballs.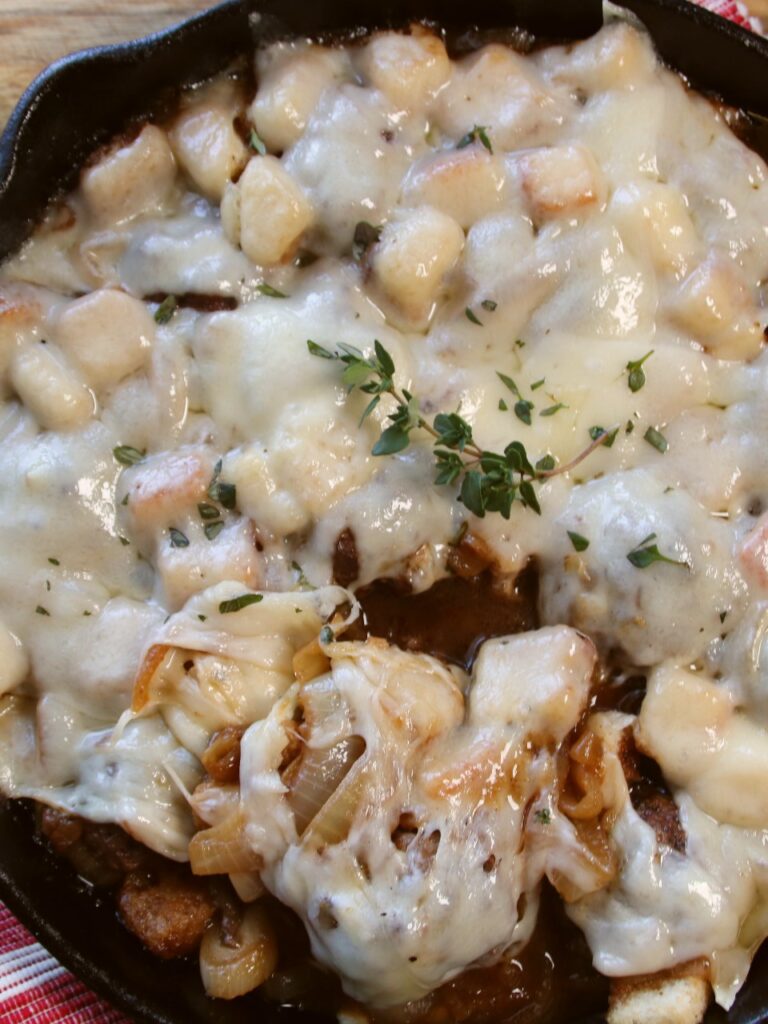 Affordable French Onion Meatball Casserole
Description
Not only is this recipe absolutely mouthwatering, but it's also affordable, making it a great choice for feeding a crowd or enjoying a cozy family dinner without breaking the bank. By using simple and readily available ingredients, you'll be able to create a restaurant-quality dish right in your own kitchen.
For the Meatballs
For the Onion Soup
Finish and Toppings
Instructions
To Make the Meatballs

Add the ground beef, Worcestershire sauce, ketchup, garlic powder, Italian seasoning, salt, and pepper to a mixing bowl. Using your hands or a spoon, mix until well combined. 

Grab up a good pinch of the mixture and form it into a ball. Set it aside in a cast iron pan or an oven-proof pan. Continue for the rest of the mixture. 

Place the meatballs in a preheated 350 degree F or 180 C oven for about 25 minutes. 
To Make the French Onion Soup Mixture
Add the butter and olive oil to a pan over medium high heat. Place the onions in, making sure they are ringed and divided, and fry over medium high heat for about 5 or 10 minutes until they soft. 

I always add a pinch of salt to the onions to ensure they sweat.

Reduce the heat to medium low and allow the onions to cook, stirring occasionally, for about 25 minutes. 

The meatballs and onions should be done at approximately the same time.

Once the onions are caramelized, add in the onion broth, bay leaves, thyme, garlic, Worcestershire sauce, and ground black pepper. Stir and bring to a boil. 

Be sure to remove the meatballs from the oven and set them aside.

Building the Casserole

Spoon the soup mixture over the meatballs and spread the cheese over the top. Return to the oven for about 10 minutes until the cheese melts. 

Garnish with a bit more thyme. Serve and enjoy your French onion soup meatball casserole. 
---
Amount Per Serving

% Daily Value *

Total Fat 54g

84

%

Saturated Fat 22g

111

%

Cholesterol 310mg

104

%

Sodium 1410mg

59

%

Potassium 980mg

29

%

Total Carbohydrate 31g

11

%

Dietary Fiber 4g

16

%

Sugars 4g

Protein 36g

72

%
---
* Percent Daily Values are based on a 2,000 calorie diet. Your daily value may be higher or lower depending on your calorie needs. Nutritional values are a within reason estimate and my vary depending on several factors.
Note
Meatball Variations: Feel free to experiment with different types of meat for the meatballs. Ground beef, ground turkey, or a combination of both can work well in this recipe. You can also add some herbs or spices, such as thyme or rosemary, to enhance the flavor of the meatballs.

Cheese Topping: To take this casserole to the next level, consider adding a layer of melted cheese on top. Gruyere or Swiss cheese are traditional choices for French onion soup and would work wonderfully in this recipe. Simply sprinkle the cheese over the casserole during the last few minutes of baking and broil until it turns golden and bubbly.

Bread Crumb Crunch: For twist, you can sprinkle breadcrumbs over the casserole before baking. This will give a nice crunch to the dish. Panko breadcrumbs or seasoned breadcrumbs would both work well.

Serve with Crusty Bread: French onion soup is often enjoyed with a side of crusty bread for dipping. Consider serving this casserole with some slices of toasted baguette or garlic bread to soak up the flavorful sauce.

Make-Ahead Option: You can prepare the meatballs and the French onion sauce ahead of time and store them separately in the refrigerator. When you're ready to serve, assemble the casserole, top it with cheese and breadcrumbs (if desired), and bake it as directed. This makes it a convenient option for meal prepping or entertaining.

Leftovers: If you have any leftovers, store them in an airtight container in the refrigerator. The flavors will continue to develop, making it even more delicious the next day. Reheat the casserole in the oven or microwave until heated through before serving.
Enjoy this comforting and flavorful French Onion Soup Meatball Casserole, and don't forget to customize it to your taste preferences. Bon appétit!
French Onion Soup, Casseroles, Easy Recipes, Dinner, Super