This is a fantastic recipe for an Economy One Skillet Creamy Chicken and Mushroom Dinner. If you're looking for a delicious and budget-friendly meal idea, this is the perfect recipe for you!
With just a few simple ingredients and one skillet, you can whip up a creamy and flavorful chicken and mushroom dinner that won't break the bank. This recipe is not only easy to make but also incredibly satisfying, making it a great option for busy weeknights or when you're on a tight budget.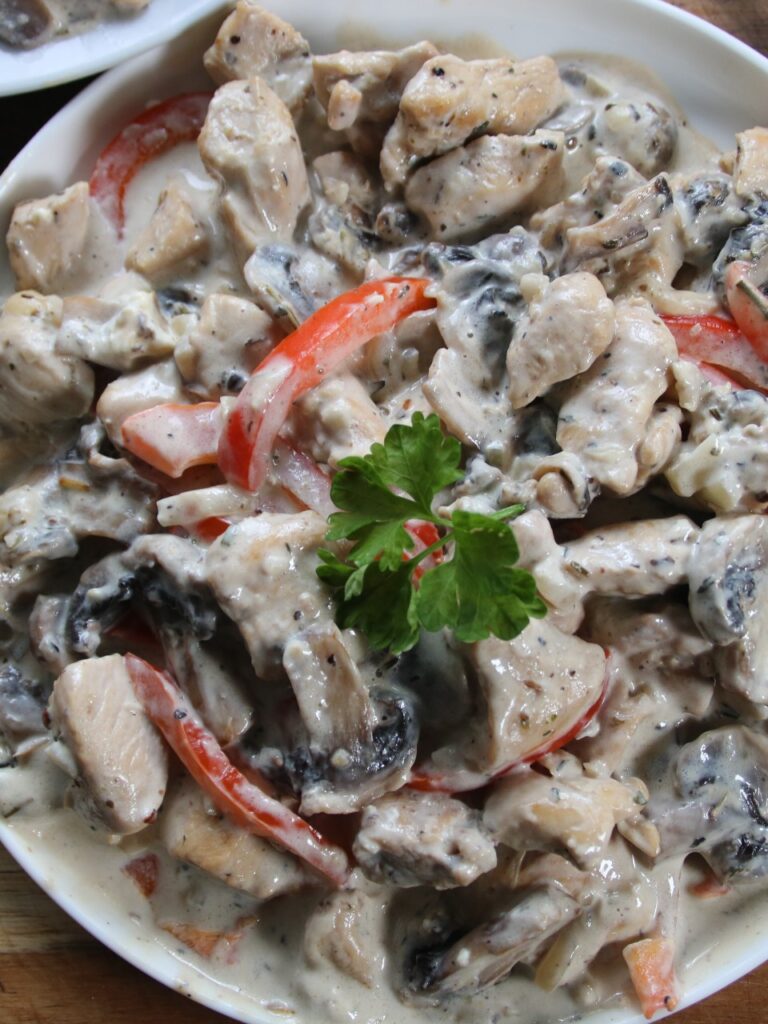 Economy One Skillet Creamy Chicken and Mushroom Dinner
Description
We'll guide you through each step of the cooking process, showing you how to prepare and cook the chicken and mushrooms to perfection. Our creamy sauce adds a delightful richness to the dish, making it even more irresistible. You won't believe how quickly this meal comes together!
Whether you're a beginner in the kitchen or an experienced cook, this recipe is sure to become a new favorite. It's versatile too – you can serve it over rice, pasta, or with crusty bread for a complete and satisfying meal.
Add the butter and oil to a pan over medium high heat. Add in the chicken. Season it with salt, pepper, and Italian seasoning. Fry and stir until golden brown and cooked though. This should take about 5 minutes. 

Add in the onion, garlic, bell pepper, and mushrooms. Stir and saute until the garlic is fragrant, mushrooms begin to sweat, and the bell pepper is fork tender. 

Place the cream cheese in and stir for a minute or so. Then, pour in the cream and continue to stir until combined and the cream cheese melts. Bring to a boil. 

Garnish with parsley, serve, and enjoy your one skillet creamy chicken and mushroom dinner. 
Servings 1
---
Amount Per Serving

% Daily Value *

Total Fat 15g

24

%

Saturated Fat 4g

20

%

Cholesterol 65mg

22

%

Sodium 1200mg

50

%

Potassium 1100mg

32

%

Total Carbohydrate 35g

12

%

Dietary Fiber 6g

24

%

Sugars 2g

Protein 25g

50

%
---
* Percent Daily Values are based on a 2,000 calorie diet. Your daily value may be higher or lower depending on your calorie needs. Nutritional values are a within reason estimate and my vary depending on several factors.
Note
Ingredient Substitutions: Feel free to make ingredient substitutions based on what you have available or your dietary preferences. For example, you can use boneless, skinless chicken thighs instead of chicken breasts, or replace the mushrooms with another vegetable like spinach.

Meal Prep: This recipe is great for meal prep as it reheats well. You can make a larger batch and portion it out for easy lunches or dinners throughout the week. Simply store the leftovers in airtight containers in the refrigerator.

Customization: You can customize the flavors of the dish by adding herbs and spices of your choice. For extra depth of flavor, consider adding a pinch of dried thyme, rosemary, or smoked paprika to the sauce. Experimenting with different seasonings can make this dish even more delicious and suited to your taste.

Serving Suggestions: While this creamy chicken and mushroom dinner is satisfying on its own, you can elevate the meal by serving it with a side salad or steamed vegetables. The freshness of a crisp salad or the vibrant colors of seasonal veggies will complement the richness of the dish.

Doubling the Recipe: If you're cooking for a larger group or want to have leftovers, you can easily double the recipe. Just make sure you have a skillet large enough to accommodate the increased quantity of ingredients and adjust the cooking time accordingly.

Garnish Ideas: Before serving, you can add a finishing touch to your creamy chicken and mushroom dinner with some garnishes. Grated Parmesan cheese, or a drizzle of balsamic glaze can add visual appeal and extra flavor to the dish.
Remember, this Economy One Skillet Creamy Chicken and Mushroom Dinner is all about simplicity and affordability without compromising on taste. Enjoy the creamy, savory goodness of this dish and savor every bite while keeping your budget intact.
Chicken Dinner, Budget Meals, One Skillet, One Pan, 30 Minute Dinners