In this recipe, we're bringing you the ultimate comfort food experience with our delicious twist on Amish-Style Hamburger Helper! Join us as we dive into the world of traditional Amish cooking and adapt their time-honored flavors into a modern classic.
You'll discover the secrets to creating a mouthwatering, from-scratch Hamburger Helper that's sure to become a family favorite. We'll walk you through each step, from selecting the ingredients to crafting the perfect blend of flavors. Whether you're an experienced chef or a kitchen novice, this recipe is approachable and sure to impress.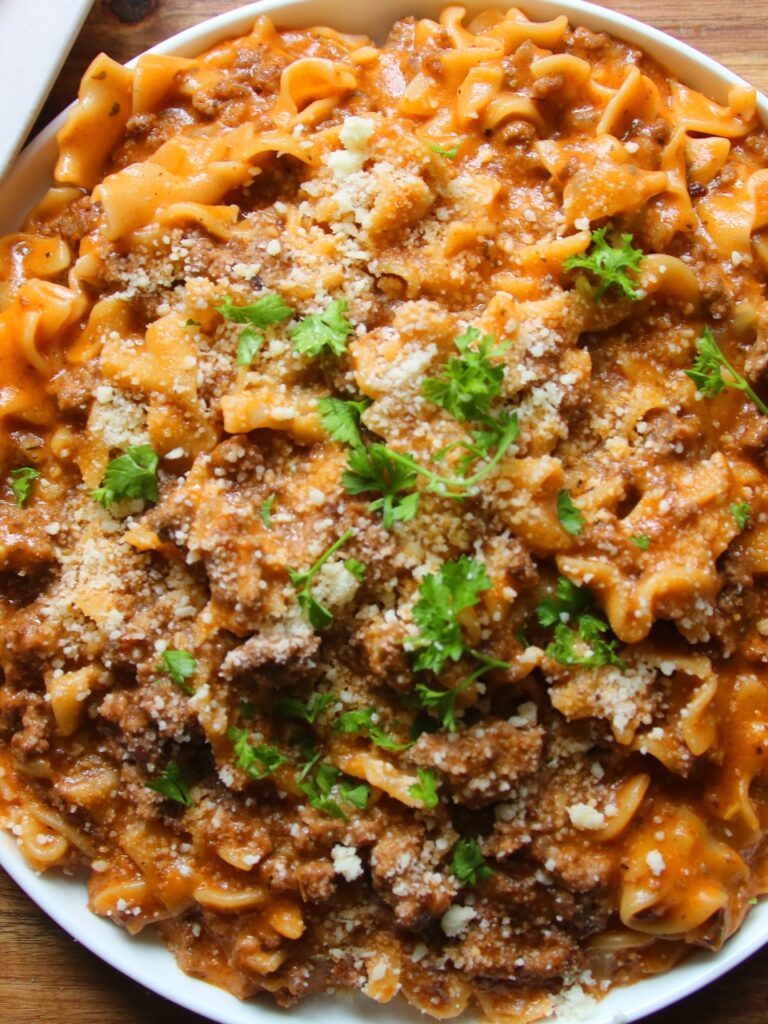 Amish Style Hamburger Helper
Description
Our Amish-inspired Hamburger Helper is rich, hearty, and oh-so-satisfying, making it an ideal meal for any occasion. Plus, it's a fantastic way to introduce a touch of tradition into your daily cooking routine.
Add the egg noodles to a pot of salted boiling water. Cook until al dente. this will take about 10 minutes. 

Add the oil to a pan over medium high heat followed by the ground beef. Fry the ground beef until cooked though and browned. 

Add in the onion and garlic and saute for about 2 minutes. Add in tomato soup, cream of mushroom soup, and milk. Stir until well combined. Add in the pepper and Italian seasoning. Stir once again. Bring to a boil while stirring. 

Add the noodles in and toss until combined. Allow to simmer for 2 or 3 minutes. 

Plate and garnish with parmesan cheese and parsley. Enjoy your Amish Style hamburger helper. 
---
Amount Per Serving

% Daily Value *

Total Fat 18g

28

%

Saturated Fat 6g

30

%

Sodium 818mg

35

%

Potassium 910mg

26

%

Total Carbohydrate 28g

10

%

Dietary Fiber 0.9g

4

%

Sugars 2.1g

Protein 23g

46

%
---
* Percent Daily Values are based on a 2,000 calorie diet. Your daily value may be higher or lower depending on your calorie needs. Nutritional values are a within reason estimate and my vary depending on several factors.
Note
Ingredients: Ensure that you use high-quality, fresh ingredients for the best results. The better the ingredients, the more flavorful your Amish-Style Hamburger Helper will be.
Ground Meat: While we used ground beef in this recipe, you can also use ground turkey, chicken, or pork based on your dietary preferences. Just be aware that the fat content and cooking time may vary.
Noodles: Feel free to use different types of pasta, such as macaroni or egg noodles, to change up the texture and appearance of your Hamburger Helper.
Spices and Seasoning: Adjust the seasonings to your taste. If you like it spicier, add a pinch of cayenne or red pepper flakes. To make it milder, reduce the amount of black pepper.
Amish Cheese: Authentic Amish cheese is not always readily available. You can substitute with a good-quality cheddar or colby cheese to maintain that rich, cheesy flavor.
Make It Creamier: If you want an even creamier consistency, you can add a touch of heavy cream or half-and-half towards the end of cooking. This will give it a luxurious, silky texture.
Vegetable Additions: To boost the nutritional value, consider adding vegetables like peas, carrots, or bell peppers. Simply toss them in during the final few minutes of cooking to avoid overcooking.
Leftovers: This Amish-Style Hamburger Helper reheats well. Store any leftovers in an airtight container in the refrigerator for up to three days.
Customize Your Toppings: Get creative with toppings like fresh herbs (parsley or chives), crispy bacon bits, or a drizzle of hot sauce for an extra kick.
One-Pot Option: For an even easier cleanup, you can try making this dish in a large skillet or a Dutch oven. Just ensure it's big enough to accommodate all the ingredients comfortably.
Serving Suggestions: Serve your Amish-Style Hamburger Helper with a side salad, crusty bread, or some garlic toast for a well-rounded, satisfying meal.
Enjoy making and savoring this Amish-inspired culinary delight with your loved ones. It's a hearty, flavorful dish that's perfect for busy weeknights or lazy weekend dinners. Happy cooking!
Hamburger Helper, Amish Food, 30 Minute Dinners, Midweek Meals, Ground Beef Recipe