Welcome to our kitchen, where we're bringing the BBQ magic indoors with our delicious One Pan BBQ Pineapple Chicken Thighs recipe! No grill? No problem! We've got you covered with this easy and flavorful one-pan wonder that will leave your taste buds dancing.
In this recipe, we'll show you how to create the perfect BBQ-style pineapple chicken thighs without needing an outdoor grill. Our simple cooking technique ensures that you still get that smoky, tangy, and sweet BBQ flavor, right in the comfort of your own kitchen.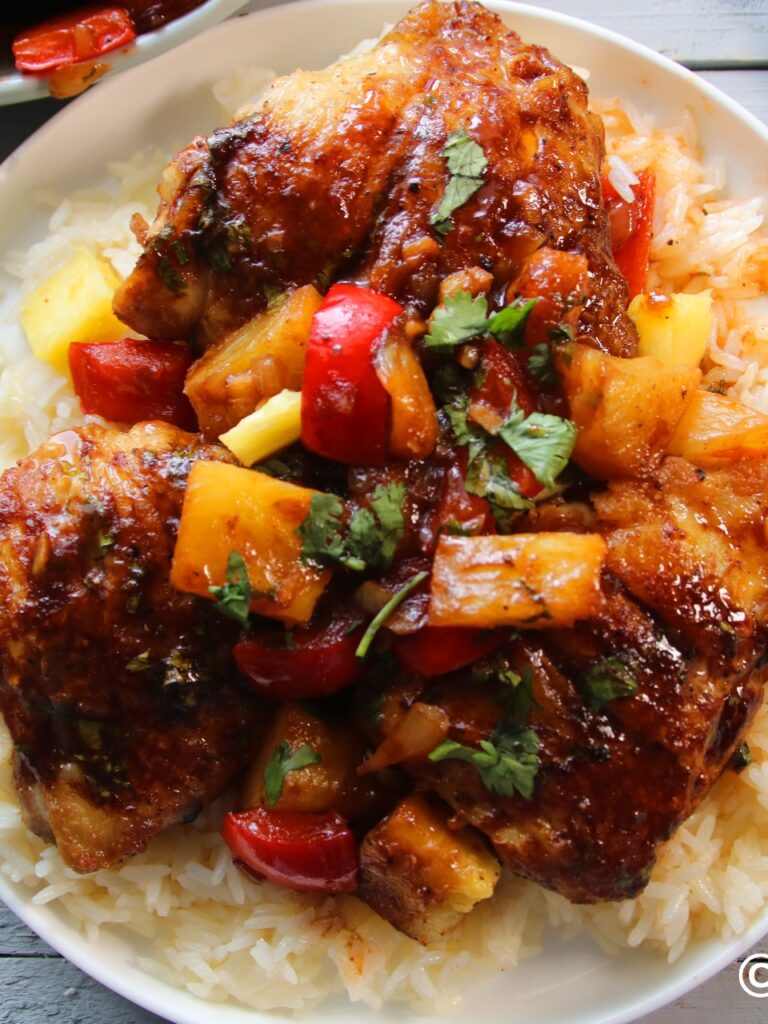 BBQ Pineapple Chicken Thighs (No BBQ? No Problem!)
Description
Join us as we take you through the step-by-step process, demonstrating just how easy it is to whip up this mouthwatering dish. From marinating the succulent chicken thighs in our secret BBQ-inspired sauce to sautéing them to juicy perfection in a single pan, you'll be amazed at the incredible flavors that come together.
For the Sauce
For the Chicken
Veggies
Add the ingredients for the sauce to a mixing bowl. Mix until well combined and set aside. 

Add the oil to a pan over medium high heat. Put the chicken in season with salt and pepper. Sear on one side. Fry, turning occasionally, until fully cooked though. Set it aside.  

In the same pan, add in the onion, garlic, and ginger. Stir and saute for about 2 or 3 minutes. 

Add in the bell pepper and pineapple. Stir and fry for 3 or 4 minutes. 

Add the chicken back in and pour the sauce in. Bring to a boil. Reduce the heat, place a lid on, and allow to simmer for a few minutes. 

Serve over steaming hot rice and garnish with cilantro. Enjoy your BBQ pineapple chicken thighs. 
Servings 1
---
Amount Per Serving

% Daily Value *

Total Fat 6.1g

10

%

Cholesterol 118mg

40

%

Sodium 571mg

24

%

Total Carbohydrate 18g

6

%

Dietary Fiber 1.3g

6

%

Protein 30g

60

%
---
* Percent Daily Values are based on a 2,000 calorie diet. Your daily value may be higher or lower depending on your calorie needs. Nutritional values are a within reason estimate and my vary depending on several factors.
Note
Chicken Thighs: We recommend using boneless, skinless chicken thighs for this recipe as they cook quickly and stay tender and juicy. However, if you prefer bone-in thighs or have them on hand, feel free to use them, but adjust the cooking time accordingly.
Pineapple: Fresh pineapple is the best choice for this recipe as it adds a burst of natural sweetness and juiciness. If fresh pineapple isn't available, you can use canned pineapple chunks in natural juice, but be sure to drain them well before adding to the pan.
Pan Selection: Use a large, oven-safe skillet or frying pan for this recipe to ensure the chicken cooks evenly and has enough space for the pineapple to caramelize alongside it.
BBQ Sauce: You can use store-bought BBQ sauce, or if you prefer a homemade version, feel free to whip up your favorite BBQ sauce recipe. Adjust the sweetness and spiciness according to your taste preferences.
Searing the Chicken: When sautéing the chicken, make sure not to overcrowd the pan. Cook in batches if needed, allowing each piece enough space to get that beautiful golden sear.
Caramelization: The sugars in the pineapple will caramelize as they cook, enhancing the overall flavor of the dish. Keep an eye on the pineapple to prevent burning and adjust the heat if necessary.
Serving Suggestions: These BBQ Pineapple Chicken Thighs are fantastic on their own, but they can also be served with steamed rice, quinoa, or roasted vegetables for a complete and satisfying meal.
Leftovers: Store any leftovers in an airtight container in the refrigerator for up to 3 days. They make a delicious addition to salads, sandwiches, or wraps the next day.
Enjoy the wonderful blend of flavors in this One Pan BBQ Pineapple Chicken Thighs recipe, and don't be afraid to get creative and make it your own with personal touches! Happy cooking!
Chicken, Chicken Recipe, Chicken with Pineapple, One Pan Meal