A checkerboard sandwich consists of two different coloured pieces of bread, usually one white and one brown. The content is placed between the two pieces of bread. When the tops are placed on, it is cut into nine sections. This type of sandwich is usually served up at parties and  gatherings. It is sometimes referred to as a tea sandwich because it is served with a Cup of tea or coffee. The funny thing is, it actually resembles a checkerboard.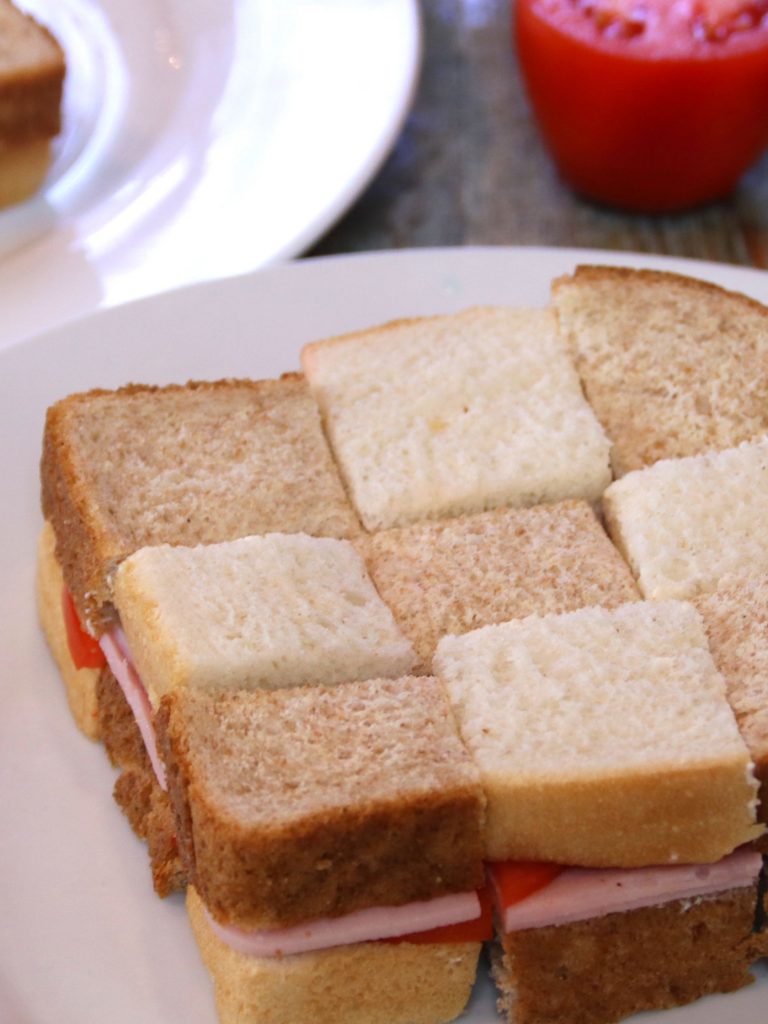 Checkerboard or Tea Sandwiches
Description
In this recipe, I have made two different checkerboards. One is tuna salad and the other is a ham and cheese. Of course, you could make the sandwich of your choice. These two sandwiches, however, are absolutely delicious.
For the tuna sandwich, I use tuna drained and water which makes the sandwich light and a little more healthy. Red bell peppers have always been a favorite of mine, but you can use salary if you wish. the mayo of my choices Hellman's but Miracle Whip can be used too. For the seasoning, this recipe uses salt and pepper but a little bit of garlic or the spices of your choice will suffice as well.
I use Philadelphia cream cheese, but you can use cheddar or the cheese of your choice. The same applies to the ham and tomatoes. I use cooked hand and Roma tomatoes, but please feel free to use the ham and tomatoes of your choice. In terms of the dip, I use a Mayo and Mayo Dijon mustard dip. For the latter dip, I have placed the recipe below.
Let me share this with you, believe me, your party guests will love it. Just a little secret, I usually make these for myself as a snack. They can be made the night before and kept in the fridge.
Add the tuna, mayo, red bell peppers, onions, green relish, salt, and pepper to a mixing bowl. Mix the ingredients until well combined.

Place the tuna salad onto two slices of bread and spread it out evenly. Place the different color bread slice over the top and cut into nine sections. Turn 4 sections of one sandwich over so you alternate colors.

Place on a serving plate and set aside.

Spread the Philadelphia cream cheese over 2 slices of the bread. You can spread it over the white or brown it really doesn't matter.

Add two slices of ham, followed by the tomatoes, to each slice of bread.

Follow the same procedure as the tuna fish sandwich.

Serve and enjoy your checkerboard sandwiches.
Serving Size 1
Servings 4
---
Amount Per Serving

% Daily Value *

Total Fat 2.2g

4

%

Protein 22.3g

45

%
---
* Percent Daily Values are based on a 2,000 calorie diet. Your daily value may be higher or lower depending on your calorie needs. Nutritional values are a within reason estimate and my vary depending on several factors.
sandwich