I first came up with the idea of meatball boats while having a sub. I thought I love meatball subs but a boat effect would be more appealing and make a better presentation. I learned that I was not the first to come up with this idea. But when I gave it a try, it certainly worked. I tasted and presented great as well.
After that, meatball sub boats became one of my favourite Friday night treats and a real hit with my family and friend.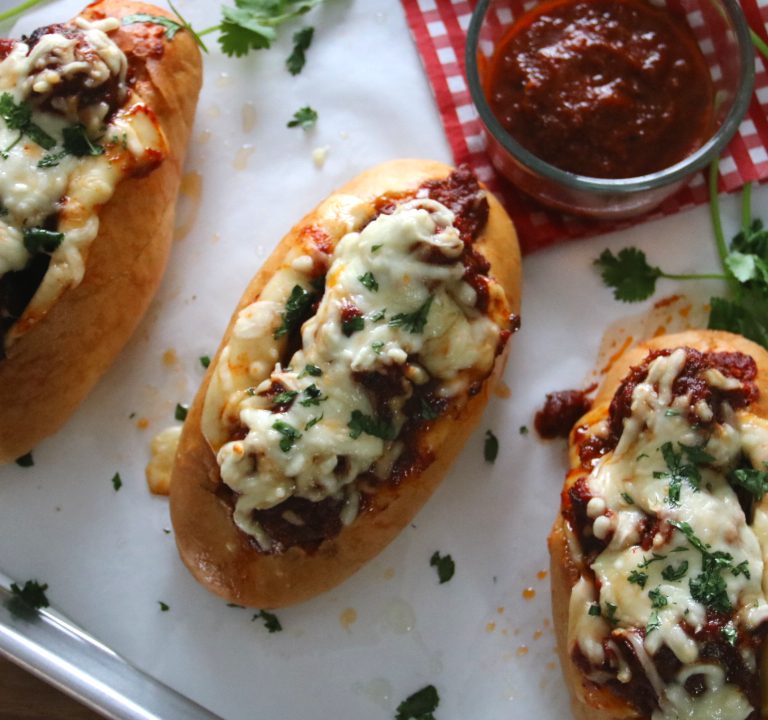 Cheesy Meatball Boat Recipe
Description
Meatball sub boats are made from homemade meatballs, served on a carved out bun bushed with garlic butter and loaded with cheese. They are then placed in the oven and served. The outcome is out of this world. 
Add the ground beef to a bowl followed by the ketchup, Worcestershire sauce, garlic, salt, parsley, and pepper. Mix until well combined. 

Using an ice cream scoop or spoon, scoop up some of the mixture into the palm of your hand. Roll and form it into a ball. Set it aside and repeat the process for the remaining mixture.

The mixture should give you about 9 meat balls depending on the size.

Add the meatballs to a pan over medium high heat and fry on all sides until browned. This should take 5 minutes or so.

Add in the marinara sauce, bring to a boil, place a lid on, and allow it to simmer for about 10 minutes or longer. 

In the mean time, using a sharp knife, cut a large rectangle into the centre of the spaccaltelli buns and push it down until a boat or well forms.

Add the melted butter to a bowl and mix in the minced garlic. Using a brush, apply a good application over the top, sides, and inside of each bun.

Place a piece of the Swiss cheese into the well and press it down.

After the meatballs have finished simmering, place three balls into the boat or well and spread a generous layer of sauce over the top. Sprinkle another generous layer of mozzarella cheese over the meatballs and place them on a baking sheet lined with parchment paper. 

Place in a 375 degree F or 190 C preheated oven for about 10 minutes until the cheese is melted and the buns are heated through. 

Serve and enjoy your cheesy meatball sub boats.
---
Amount Per Serving

% Daily Value *

Total Fat 28.5g

44

%

Saturated Fat 11.5g

58

%

Cholesterol 70mg

24

%

Sodium 1401mg

59

%

Total Carbohydrate 90.5g

31

%

Dietary Fiber 5.6g

23

%

Sugars 3.8g

Protein 16.5g

33

%
---
* Percent Daily Values are based on a 2,000 calorie diet. Your daily value may be higher or lower depending on your calorie needs. Nutritional values are a within reason estimate and my vary depending on several factors.
Note
The ingredients in the meatballs are my preference and can be altered to your taste. I use spaccatelli buns in the recipe, but you can use the buns of your choice. My preferred cheeses are mozzarella and Swiss, but you can alter these as well. 
Meatball submarine, Snacks, Subs, Party Foods