Chicken Kabsa is traditionally an Arabian dish. It is made with a combination of spiced rice and chicken.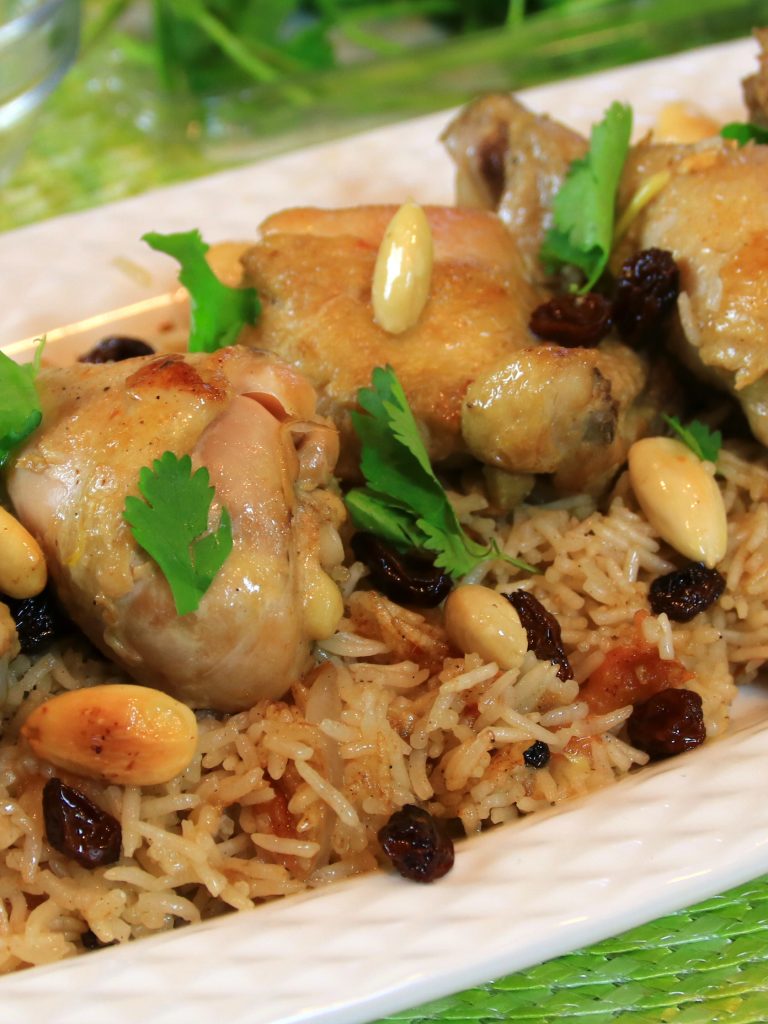 Chicken Kabsa
Description
The recipe is aromatic, spicy, and tasty. Garnished with raisins and almonds, the recipe is out of this world. We are by no means saying it is traditional, but it's the Cook n' Share way.
Give it a try and let us know what you think.
Place some oil into a preheated pan and add in the raisins and almonds. Toast for a few minutes over medium heat and set them aside in a bowl.

Add in the chicken, cook until brown, and set them aside.

Put the onion, ginger, garlic into the pan and saute until fragrant.

Place the cinnamon, bay leaves, cardamum, salt, pepper, cloves in and saute for a couple of minutes until they spices activate.

Add the tomato in, stir, and cook until the tomatoes are tender. Stir until the spices fully coat the chicken.

Put the lime and water in, bring to a boil, reduce the heat, and simmer for 20 to 25 minutes. Set the chicken aside again

Place the rice in, bring it to a boil, and simmer until the rice is cooked.

After the rice is cooked, place the lid on and simmer for an additional 3 to 5 minutes.

Remove the lid, plate the rice up, put the chicken over the top, garnish with the toasted raisins and almonds.

Garnish with coriander and enjoy your chicken kabsa.
Serving Size 1 cup
Servings 4
---
Amount Per Serving

% Daily Value *

Total Fat 14.2g

22

%

Saturated Fat 3.1g

16

%

Cholesterol 187.2mg

63

%

Sodium 200mg

9

%

Total Carbohydrate 30.5g

11

%

Protein 77.2g

155

%
---
* Percent Daily Values are based on a 2,000 calorie diet. Your daily value may be higher or lower depending on your calorie needs. Nutritional values are a within reason estimate and my vary depending on several factors.
chicken kabsa, arabic food, kabsa, chicken