Looking for a delicious and easy way to satisfy your craving for chicken nuggets? Look no further! In this video, we'll show you how to make homemade chicken nuggets using real chicken thighs.
Using fresh, quality ingredients, you'll learn how to prepare and bread your chicken, then cook it to crispy, golden perfection. We'll also share our favorite dipping sauces to serve alongside your homemade nuggets.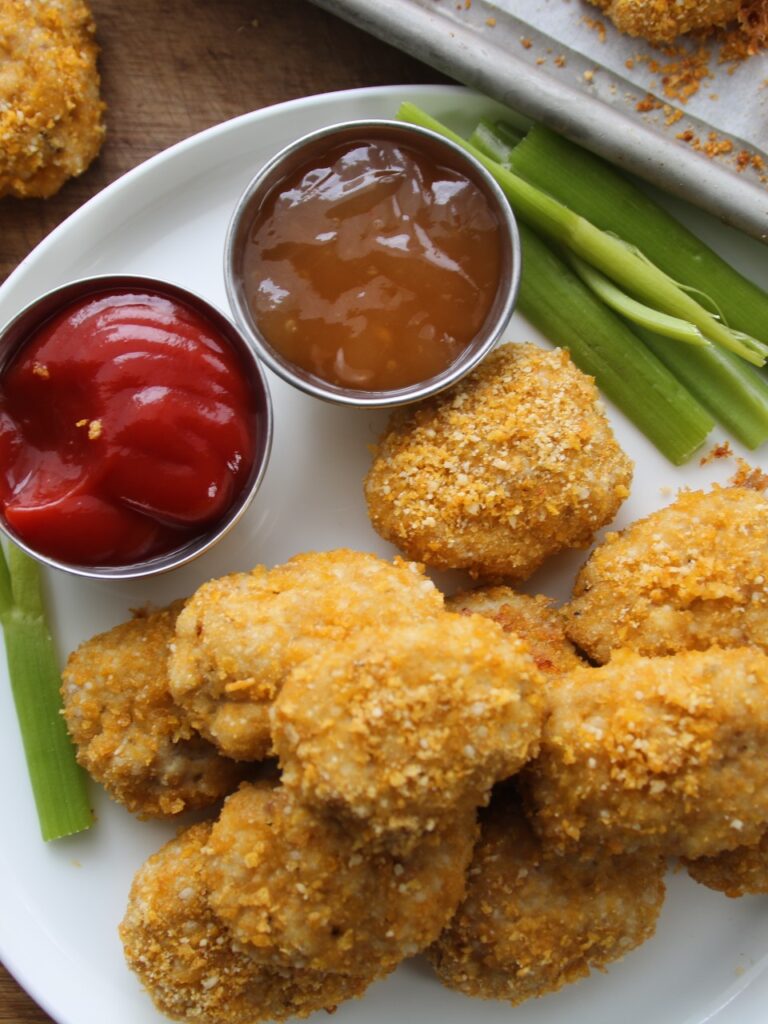 Chicken Nuggets at Home with Real Chicken Thighs
Description
Whether you're looking for a fun weekend activity with the family or a tasty meal to enjoy on your own, this recipe is sure to impress. So grab your apron and join us in the kitchen for some delicious homemade chicken nuggets!
Add the cornflakes into the bowl of the food processor. Process over medium speed until a fine mixture forms. If you don't have a food processor, you can place the cornflakes into a Ziploc bag and pound until a fine mixture forms.

Add the Parmesan cheese into the cornflake mixture and pulse once again until combined. If you use in the Ziploc bag, add the Parmesan in and check the bag.

Add the mixture into the small mixing bowl and set it aside.

Place the chicken thighs into the bowl of the food processor that you cleaned. Add in the water, garlic powder, onion powder, salt, and pepper. Process over medium speed until a ground chicken mixture forms. If you don't have a food processor, you can simply use ground chicken.

Spread the chicken mixture onto a baking sheet lined with parchment paper. Spread the mixture out evenly, using a spatula, until it's about half or 3/4 of an inch thick. Place the mixture into the freezer for about 20 or 25 minutes.

Using an ice cream scoop or a spoon, scoop up a good tablespoon of the mixture and place it into the palm of your hand. Roll it into a ball, flatten it out, and form it into a nugget shape.

Dredge the nuggets into the cornflake mixture and set them aside on a baking sheet lined with some parchment paper. Place the nuggets into a 375°F or 190 Celsius preheated oven for about 25 minutes or until cooked through completely.

Serve the nuggets with some sliced celery and your favourite dipping sauce. Enjoy your chicken nuggets at home with real chicken thighs
Serving Size 2 nuggets
---
Amount Per Serving

% Daily Value *

Total Fat 22g

34

%

Saturated Fat 12g

60

%

Trans Fat 0.7g

Cholesterol 134mg

45

%

Sodium 860mg

36

%

Potassium 470mg

14

%

Total Carbohydrate 15g

5

%

Sugars 1.2g

Protein 32g

64

%
---
* Percent Daily Values are based on a 2,000 calorie diet. Your daily value may be higher or lower depending on your calorie needs. Nutritional values are a within reason estimate and my vary depending on several factors.
Note
Choose high-quality chicken thighs: When shopping for chicken thighs, try to choose organic or free-range chicken if possible. Look for thighs with no added hormones or antibiotics for the best quality and flavor.

Use a meat thermometer: To ensure your chicken is cooked through and safe to eat, use a meat thermometer to check the internal temperature. The chicken should reach 165°F (74°C) before you remove it from the heat.

Be patient when breading: Make sure to thoroughly coat each piece of chicken in the flour, egg, and breadcrumbs mixture. Take your time to ensure each nugget is evenly coated for the best results.

Don't overcrowd the pan: When baking the nuggets, make sure not to overcrowd the pan. This will cause the temperature to drop and result in soggy nuggets. Bake in batches if necessary, and keep the cooked nuggets warm in a low oven until all the nuggets are cooked.

Experiment with dipping sauces: While ketchup and BBQ sauce are classic dipping sauces for chicken nuggets, feel free to get creative and try out new flavors. Honey mustard, ranch, and sweet chili sauce are all delicious options to try.
With these tips in mind, you'll be able to make the most delicious homemade chicken nuggets with real chicken thighs. Enjoy!
Chicken Recipe, Chicken Nuggets, Fast Food, How to