Just about everybody has a ham for the Holidays. As a matter of fact, it's borderline comfort food. It simply gives off the wonderful warm feeling of caring and security. This recipe, however, goes beyond those limits due to its easy and heart warming maple glaze. The fantastic thing is that it's made with five simple ingredients which you will probably have in your pantry.
I usually serve it for Christmas, Thanksgiving, and Easter. Many people don't think that three times a year is enough, however. In light of that, serve it up as often as you like. It makes a wonderful Sunday dinner too.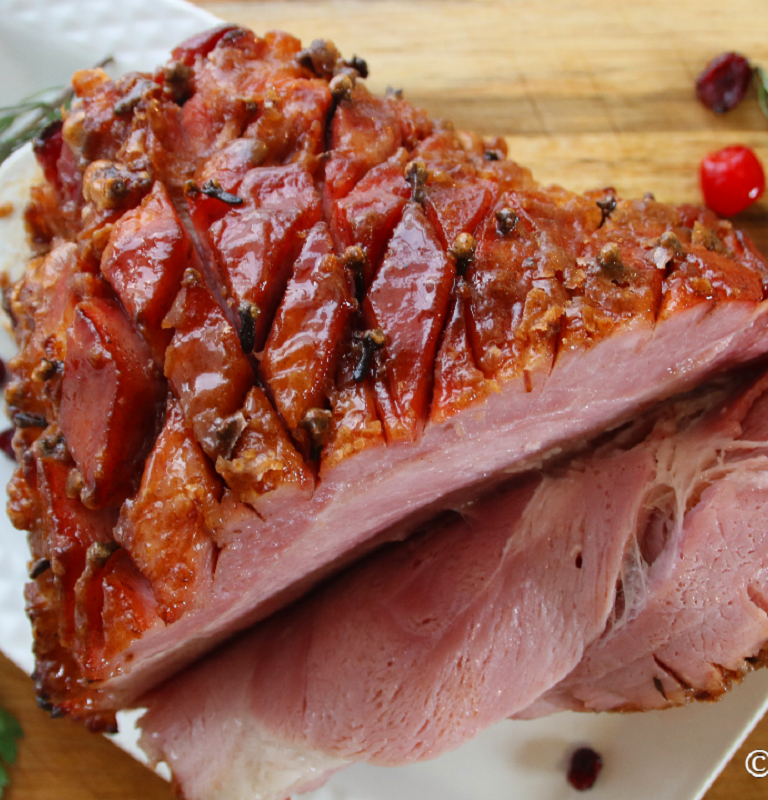 Easy Holiday Ham with Maple Glaze
Description
There is nothing nicer during the Holidays than sitting down with family to a wonderful dinner. Of course, a glazed ham is often part of that tradition. This maple glazed ham has become part of my family Holiday dinner for generations now. As many members of my family say: "The turkey is delicious, but the ham makes the dinner."
Instructions
Preheat you oven to 325 F or 160 C.

Slice the ham diagonally about 1/2 to 1 inch deep and 1 to 1 1/2 inches apart. Then, slice it the same the opposite way. Place the cloves at the tips of the triangles so it forms a pattern. Place the ham on a wire rack with a tray under it lined with aluminum foil.

In a saucepan, combine the maple syrup, sugar, mustard, cinnamon, and nutmeg. Place on the stove over medium high heat stir and bring to a boil. Continue to boil and stir until the mixture gets foamy and thickens a bit. Turn off the heat.

Using a brush, generously apply the glaze over the ham.

Place in the oven and allow the ham to bake for one hour. 

After one hour, remove the ham and give it a second application of the glaze. Place back in the oven for an additional 20 minutes to half an hour.

Slice, serve, and enjoy your easy maple glazed ham.
Serving Size 2 oz
Servings 1
---
Amount Per Serving

% Daily Value *

Total Fat 0.5g

1

%

Cholesterol 25mg

9

%

Sodium 520mg

22

%

Potassium 340mg

10

%

Total Carbohydrate 2g

1

%

Sugars 6g

Protein 9g

18

%
---
* Percent Daily Values are based on a 2,000 calorie diet. Your daily value may be higher or lower depending on your calorie needs. Nutritional values are a within reason estimate and my vary depending on several factors.
Note
The hams I buy have the rind removed. If not, you'll have to remove it which is not a difficult process.
I use about a 6 pound ham which feeds 6 people nicely. If you have more guests, get a bigger ham and double the recipe.
As always, extra spices can be used as well. 
Holiday Recipe, Holiday Ham, Glazed Ham, Christmas Ham, Thanksgiving Ham"