Jack Daniels pork chops are a delicious combination of whiskey, sugar, soy sauce, etc. When all of this is combined, the taste is out of this world. I garnish these up with some green onions, but you can use the garnish of your choice. We also use butterfly chops but bone in chops can be used as well.
I mentioned whisky above. It is really important to use Jack Daniels sipping whisky, however. As many of you know, it has a very distinct taste. It's really like comparing moonshine to a 100 year old scotch. That's the difference, taste wise, it will make in the dish.
I have to mention also that the longer you marinate the chops, the better. In the video, I only leave them for 30 minutes which will suffice, but again the longer the better.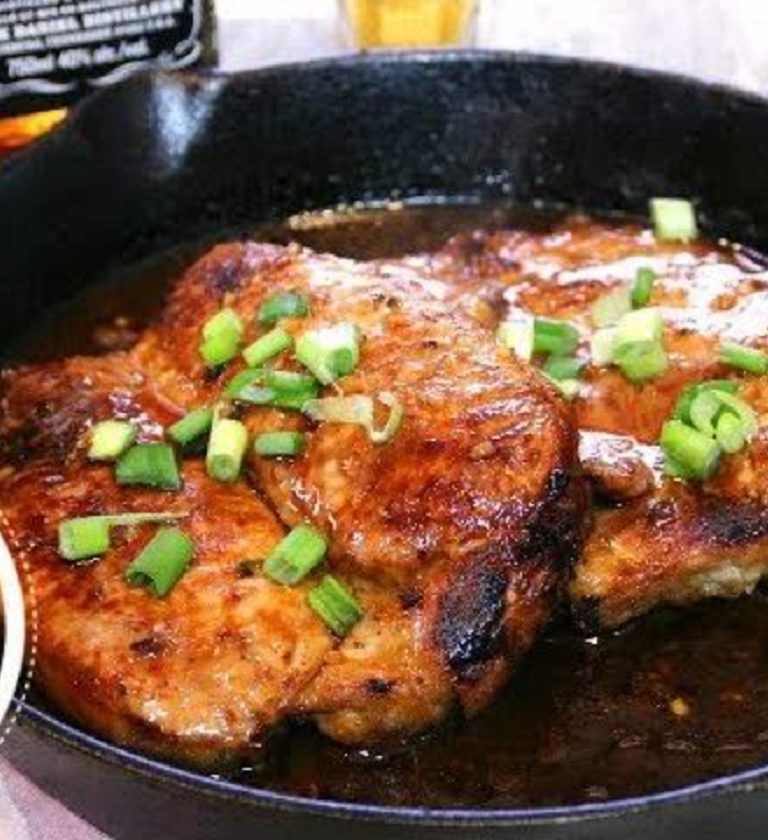 Exceptional Jack Daniel's Pork Chops
Description
There are fewer things better to use as a marinate than Jack Daniels. That unique taste is out of that world. Combine this with the spices suggested in this recipe, the taste is spectacular. Give it a try and let us know what you think.
To Make the Jack Daniels Marinate
Add the soy sauce, brown sugar, chilli sauce, olive oil, ground black pepper, and Jack Daniels to a baking dish and mix until well combined. 

Place the chops in and flip them around until they are completely coated with the marinate. Cover the dish with cling wrap and place in the fridge for about 30 minutes. To marinate them overnight is even better. 

Heat a medium size cast iron skillet over medium hight heat. Place the chops in and fry until they are seared and brown on both sides. 

Pour the sauce in the pan. Spoon or baste some sauce over, bring to a boil, and simmer until the sauce thickens a little.

Put the pork chops into a 350 degree F or 177 C preheated oven for about 10 minutes.

Plate, garnish with green onion, and enjoy your Jack Daniels pork chops.
Serving Size 1
---
Amount Per Serving

% Daily Value *

Total Fat 14g

22

%

Sodium 1450mg

61

%

Total Carbohydrate 23g

8

%

Sugars 20g
---
* Percent Daily Values are based on a 2,000 calorie diet. Your daily value may be higher or lower depending on your calorie needs. Nutritional values are a within reason estimate and my vary depending on several factors.
Note
As with any recipe, and I always say this, you can alter the ingredients according to your liking. For example, you can use as much or as little Jack Daniels as you like. I wouldn't add too much, however. 
You can also use bone in chops. I just like the butterfly chops as they are so much healthier and easier to work with.
Jack Daniels, Butterfly Pork Chops, Marinated Pork Chops, Dinner Ideas, BBQ Ideas