Molten lava cake is simple, delicious, and unique compared to just about any other cake I've tried. The outer part is solid, whereas the inner portions is a liquid. It's really an incredible experience slicing it open when it's baked to perfection.
When you do slice the cake open, the inner liquid flows out and resembles the lava erupting from a volcano. The only thing missing is the colourful fire works and the lava cloud. Metaphorically speaking. I often refer to it as liquid heaven.
Molten lava cake is certainly a cake that everybody should try once.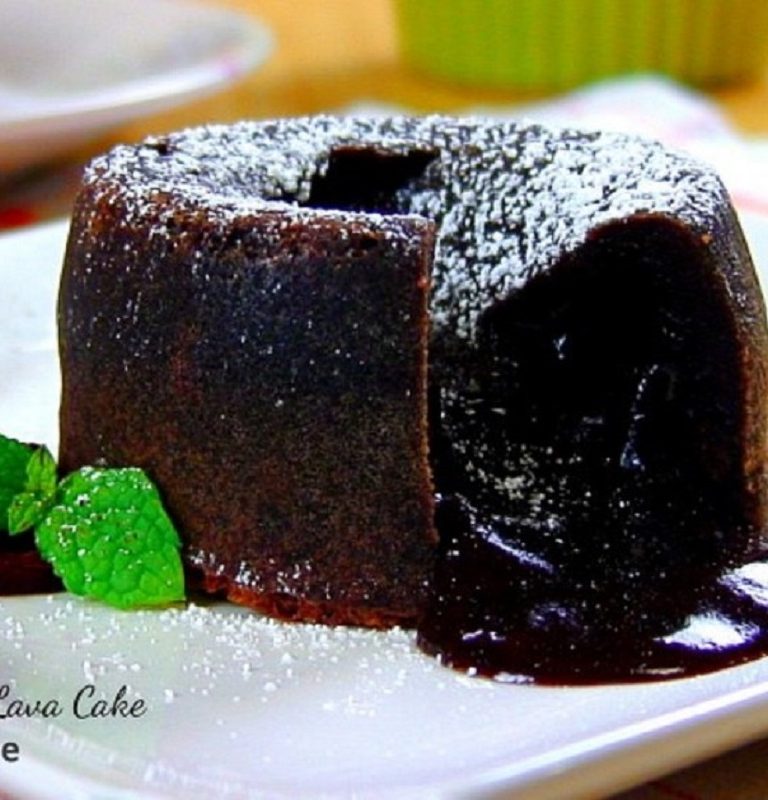 Molten Lava Cake
Description
I was in a small bakery on a quaint street in France when I first encountered molten lava cake. When I sat down with my coffee and sliced the cake open, a unique slice of heaven flowed out. 
Boil some water in a saucepan and a place a bowl over it. Making sure the bowl doesn't touch the water. 

Place the chocolate chips and butter in the bowl. Whisk until the chocolate and butter melt and become well incorporated. You can also microwave them to make them melt faster. Just make sure you don't burn the chocolate. Turn off the heat and allow the mixture to cool. Set it aside. 

In a separate bowl, add in the eggs, vanilla extract and confectioner's sugar. Beat using an electric mixer or whisk until everything is well combined and the eggs are pale in colour. 

Add the chocolate mixture and whisk well. Sift the flour into the mixture and whisk until it's smooth and well incorporated. 

Spray the ramekin cups with baking spray. You can use melted butter, as well. Pour in the batter until the cups are 3/4 full. 

Bake in a preheated oven at 450 degrees F (232 C) for at least 14 minutes. (Small ramekins might take 10 minutes only). Remove them from oven and allow them to cool down for a few minutes. The cakes should come free of the cup walls automatically after a couple of minutes. 

Carefully go around the edges of the cups with a sharp knife to make sure they have loosened. Cover them with a platter and flip them . Pull away the ramekin cups. 

Serve your molted lava cakes with slice raspberry, strawberry, or vanilla ice cream if you wish. Slice and serve.  Enjoy your molten lava cakes! 
Servings 1
---
Amount Per Serving

% Daily Value *

Total Fat 22g

34

%

Saturated Fat 7g

35

%

Cholesterol 28mg

10

%

Sodium 310mg

13

%

Total Carbohydrate 53g

18

%

Dietary Fiber 4g

16

%

Sugars 45g

Protein 7g

15

%
---
* Percent Daily Values are based on a 2,000 calorie diet. Your daily value may be higher or lower depending on your calorie needs. Nutritional values are a within reason estimate and my vary depending on several factors.
Note
To achieve the consistency you want, the baking time and temperature are critical.  Fourteen minutes at 450 degrees is perfect. If you are worried that the cake will be over baked, keep an eye on it and check it after 10 minutes. If you feel that the cakes are half baked already, you may take them out earlier or prior to the suggested baking time.  Sometimes it depends on the oven as well as every oven differs. 
The rule of thumb is, the longer it bakes, the less liquid there will be. Of course, the opposite holds true, as well.
In this recipe, we strongly recommend to use ramekin cups to ensure a good outcome. Otherwise, there is no assurance that the result will be perfect if other bake ware (cups) is used. If you are going to use a ceramic bowl, you should add about 1 minute more to the baking time. If you are going to use a light metal bowl, reduce the baking time by a minutes or two. You are probably best to experiment with one cake to get the exact baking time. 
You can serve molten lava cake warm or cold.It is often served with raspberries, strawberries, or ice cream. Although you can use any flavour of ice cream, vanilla is one of my personal preferences. It seems to complement the chocolate so nicely. Give this a try today. You will love it.
Desserts, French Desserts, Baking