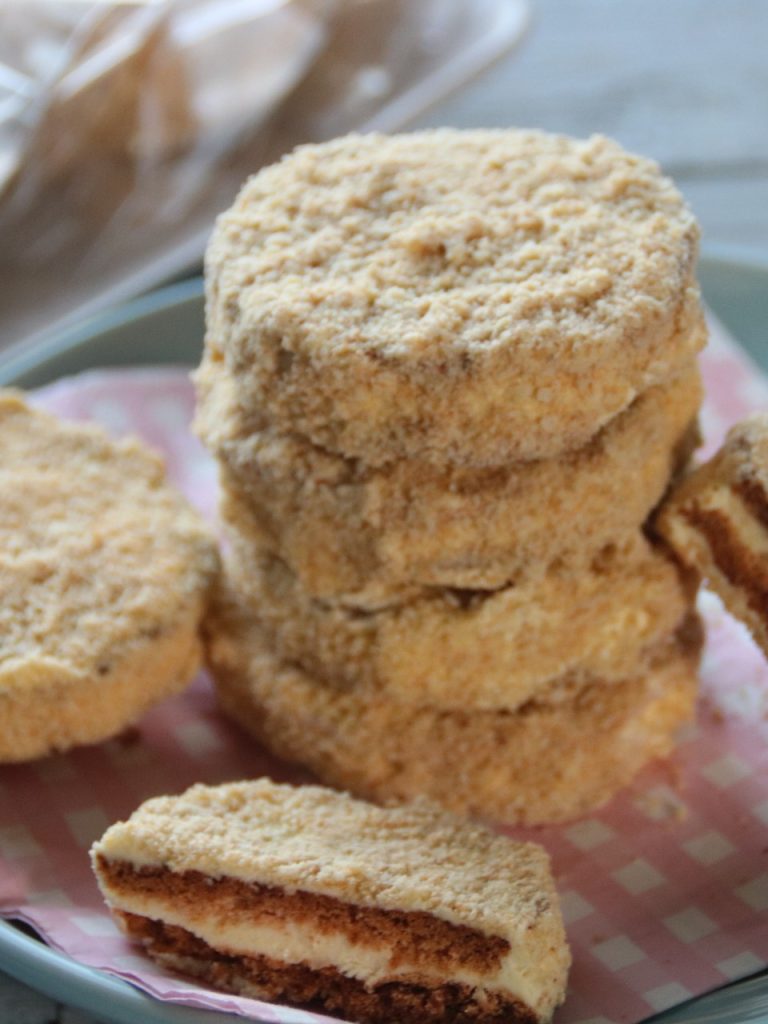 Silvanas Cookies
Description
Silvana or sylvana cookies are Filipino frozen type of cookies made with meringue and butter cream. It is covered with crushed biscuits or graham crumbs and crushed cashews for some crunch. Oftenly served chilled and gives freshness on every bites. They are melt in your mouth cookies and very light. 
for the meringue
for butter cream
for coating
Instructions
Beat egg whites on medium speed until frothy. Add in cream of tartar and gradually sugar while beating until stiff peaks. Combine crushed cashews and cornstarch in small bowl, then fold it to the meringue mixture 1/2 at a time. 

Stiff peaks is when you lift the paddle attachment, the meringue holds it shape.

Transfer meringue into a piping bag. Start piping into the sheet pan line with  a round shape pattern. Flatten the top with spatula or spoon. Shake the pan to release some air bubbles. Bake in 325 F for 22 minutes. Remove from oven and allow to cool completely. Set aside the cookies in a wire rack or a plate. 

best to print a 2 inches circle pattern as a guide.

To make the butter cream, beat the egg yolks with sugar over low speed until pale in color (light yellow). Put it over a double broiler and whisk until sugar is completely dissolve. Remove from heat and continue beating until becomes thick and the bottom of the bowl is cool. 

I used a small pot with boiling water as a double broiler.

Once the bowl is cool enough, gradually add in cubed butter 1/2 tbsp at a time and increase the speed to high, continue beating until the cream becomes smooth and all  butter is used. 

I used a stand mixer and it took me approximately 10-15 minutes for butter cream to come together. Dont worry if it become lose, just keep beating it until it become thick buttercream.

Take the frosting over the rough side of the cookie about 1 tsp. Place the other side of cookie and press together like a sandwich. Spread more frosting around the edges of the cookie. Also, the tops and bottoms. Dredge all side of the cookies in combined graham crumbs and cashews. Chill until cold and enjoy! 

spread the tops and bottom with only thin layer of frosting.
Serving Size 1
Servings 8
---
Amount Per Serving

% Daily Value *

Total Fat 6.7g

11

%

Cholesterol 10mg

4

%

Total Carbohydrate 15g

5

%

Sugars 8.6g
---
* Percent Daily Values are based on a 2,000 calorie diet. Your daily value may be higher or lower depending on your calorie needs. Nutritional values are a within reason estimate and my vary depending on several factors.
silvanas, sylvanas, filipino cookies