There is nothing I love more than a good cabbage roll. But first, let's get the linguistics out-of-the-way. Every time I post a recipe with cabbage rolls as a title I get myself into trouble with viewers in parts of Europe. In light of this, to save the hubbub and all the controversy, I'm simply going to refer to them as stuffed cabbage. That means, cabbage leaves wrapped around a variety of feelings. OK, having said that, all I simply love the stuffed cabbage!
I don't know, there's just something about the filling wrapped in a bit of cabbage that satisfies the soul. Let's face it, it's a comfort food. And that's why the recipe has been become popular throughout the world. The only thing difficult about making stuffed cabbage is the concept of a hot oven especially in the summer time. That's why I decided to do my stove top stuffing cabbage (cabbage rolls). They take a bit less time and, without the word of a lie guys, they are sensational!
As always give them a try, and drop us a line to let us know what you think.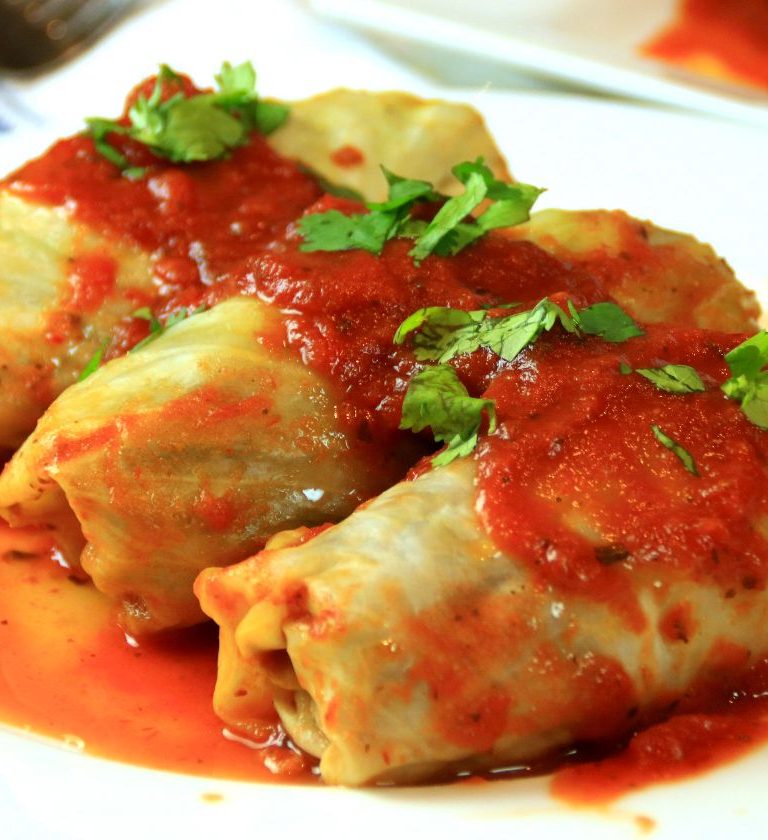 Stovetop Cabbage Rolls (Stuffed Cabbage)
Description
Stovetop stuffed cabbage or cabbage rolls are a fantastic alternative to oven baked. They are simply a combination of wonderful homemade filling rolled up in boiled cabbage. After simmering in marinara sauce, the texture and taste is out of this world. 
Submerge the head of cabbage in boiling water and allow to cook for five minutes or so. When the cabbage has finished, the leaves should fall off. Remove them with a pair of tongs (you want the largest ones) and set them aside to cool a bit. 

You want about 10 good size leaves. If they are not pliable enough, leave the cabbage boil a bit longer.

Place the ground beef in a boil. Add in the cooked rice, the egg, the Worcestershire sauce, garlic, salt, and pepper. Mix until well combined.  

Cut the hard fibrous member away from the top of each leaf. Place about 4 tbsp or so of the mixture onto the leaf and spread it out and shape it into a log. Fold the outer most edge towards the centre and roll the leaf around the mixture. Place the rolls seam side down on a plate.

Add the marinara sauce to a deep frying pan. Stir and bring it to a boil. 

Tip: Add a bit of water to the bottom of the jar and shake it to extract the remaining sauce.

Add the cabbage rolls in (seam side down). Lower the heat, place a lid on, and allow the cabbage rolls to simmer for about 35 to 40 minutes.

Sprinkle some Parmesan over the top (optional). Serve and enjoy your stovetop cabbage rolls or stuffed cabbage.
Serving Size 199 g
Servings 1
---
Amount Per Serving

% Daily Value *

Total Fat 10g

16

%

Saturated Fat 5g

25

%

Cholesterol 35mg

12

%

Sodium 1100mg

46

%

Total Carbohydrate 7.3g

3

%

Dietary Fiber 4g

16

%

Sugars 12g
---
* Percent Daily Values are based on a 2,000 calorie diet. Your daily value may be higher or lower depending on your calorie needs. Nutritional values are a within reason estimate and my vary depending on several factors.
Note
There are other recipes that will give you more of an Eastern European version. Please feel free to have a look at them. This is the way my family has cooked stuffed cabbage or cabbage rolls for year. On an ending note, you can alter the ingredients according to your liking. 
Cabbage Rolls, Stuffed Cabbage, Dinner Ideas, Supper, Main Meals.