Tuna cakes are a delicious combination of tuna and mashed potatoes. They are made with a  combination consisting of cheese, tuna, and green onions. I have say that the recipe is also great for simple, easy, and delicious mashed potatoes as well.
When put together, the cakes are smoothed out and placed in the fridge to set and later fried up.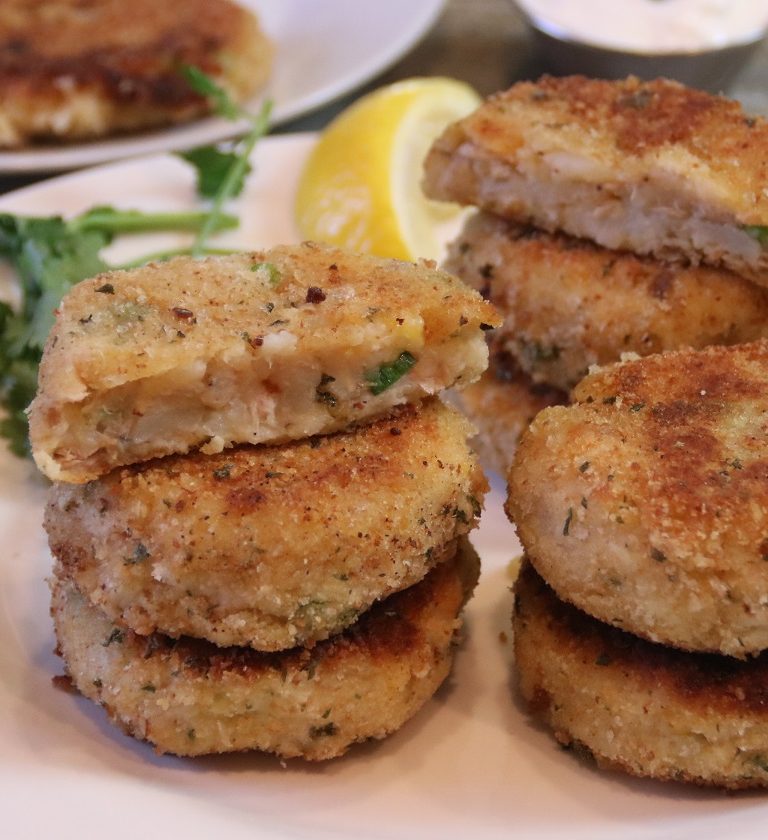 Tasty Tuna Cakes
Description
Tuna cakes are are easy to make and delicious. They are mixed with mashed potatoes which makes them a perfect meal for lunch or dinner. Believe me, your family and friends will love them.
Place the potatoes into a mixing bowl followed by the milk, butter, garlic, salt, and pepper. Mash until well combined.

Add in the cheese, tuna, and onions. Using a spoon or spatula, mix until well combined. 

Spread the mixture out in a 9 by 9 oven dish and smooth the top out. Place some parchment paper over the top and flatten it down. Place in the fridge for about half an hour to set.

After setting, remove the paper and find a round object about 3 or 4 inches in diameter and cut out the cakes. 

For the dredging stations, add the flour to once container, the egg to a second, and the bread crumbs in the third. 

Dredge the patties in each station and set them aside on a plate lined with parchment paper.

Pour some olive oil in a pan over medium high heat. Fry the patties, in batches, until nicely browned on each side.

Set the patties on a wire rack to drain off any excess grease. Serve and enjoy your tasty tuna patties. 
Servings 1
---
Amount Per Serving

% Daily Value *

Total Fat 5.8g

9

%

Saturated Fat 3.5g

18

%

Cholesterol 38.5mg

13

%

Sodium 507mg

22

%

Potassium 75mg

3

%

Total Carbohydrate 10g

4

%

Dietary Fiber 0.6g

3

%

Sugars 0.6g

Protein 18.2g

37

%
---
* Percent Daily Values are based on a 2,000 calorie diet. Your daily value may be higher or lower depending on your calorie needs. Nutritional values are a within reason estimate and my vary depending on several factors.
Note
After the mixture has set, it is then punched out into cakes and fried in olive oil. Once done, the tuna cakes are to die for. I always have mine with sour cream, but you can use the dipping sauce of your choice. They can also be placed in the freezer and fried up at a later date.