Golden shrimp fried rice is so simple to make and incredibly delicious. I love rice, but I don't like plain humdrum rice or even plain fried rice for that matter. No matter what type of rice I make, it has to have some pizzazz and be spiced up to some extent. Of course, we eat with all our senses especially our eyes. That's why this golden fried rice is so unique. It's beautiful to look at, possesses a wonderful texture, and is spiced to perfection. You can eat the dish as is or serve it up with other side dishes or proteins. As I always say, your family and dinner guest will love it.
One of the greatest things about the recipe is it can be made in about 20 minutes and it's so economical.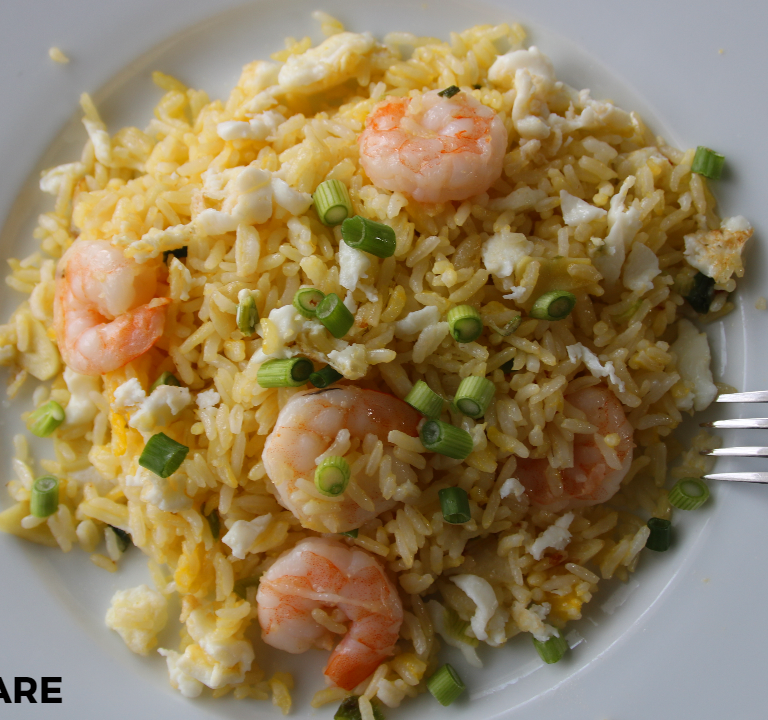 The Best Golden Shrimp Fried Rice You'll Ever Indulge In
Description
I'm always looking for rice recipes. As I said earlier, they have to have character and a unique taste before I'll even consider them. This golden fried rice recipe certainly checks all the boxes. As one member said: "The texture and taste of this recipe is beyond words."
Add the rice to a bowl followed by the egg yolks, salt, and garlic powder. Gently mix until well incorporated.

Pour the oil into a pan over medium high heat. Place in the garlic and green onions. Saute until the garlic is fragrant. This should take a minute or two. 

Add in the rice and shrimp and mix until well combined. If you're using fresh shrimp (uncooked), add it in with the onion and garlic. Stir and cook until the rice dries out and is heated through.

Push everything to one side of the pan and put the egg whites in the other side. Allow it to cook and set for a couple of minutes then chop it up into slices or sections. Combine it with the rice on the other side after it has set.

Plate and garnish with more green onions.

Enjoy your golden shrimp fried rice.
Servings 1
---
Amount Per Serving

% Daily Value *

Total Fat 11g

17

%

Saturated Fat 1g

5

%

Cholesterol 87mg

29

%

Sodium 925mg

39

%

Potassium 165mg

5

%

Total Carbohydrate 41g

14

%

Dietary Fiber 1g

4

%

Sugars 1g
---
* Percent Daily Values are based on a 2,000 calorie diet. Your daily value may be higher or lower depending on your calorie needs. Nutritional values are a within reason estimate and my vary depending on several factors.
Note
I season the rice with a simple combination of salt and garlic powder. Of course, you can alter the seasoning according to you liking. In example, some onion powder or other seasoning would certainly not go amiss. I had to use precooked shrimp as I was unable to round up good fresh shrimp. If you can find fresh shrimp, by all means go for it. Just add it in with the garlic and green onions so it has a chance to cook. If you want more of a yellow appearance, go ahead and add in an extra egg.
Rice, Fried Rice, Rice Recipe, Shrimp Fried Rice, Easy Rice Recipe