This Sloppy Joe recipe is perfect for feeding a large crowd, and it will be sure to please everyone in the family. Let us show you how easy it is to make this delicious and easy dish, and then get ready to enjoy some delicious Sloppy Joes for lunch or dinner!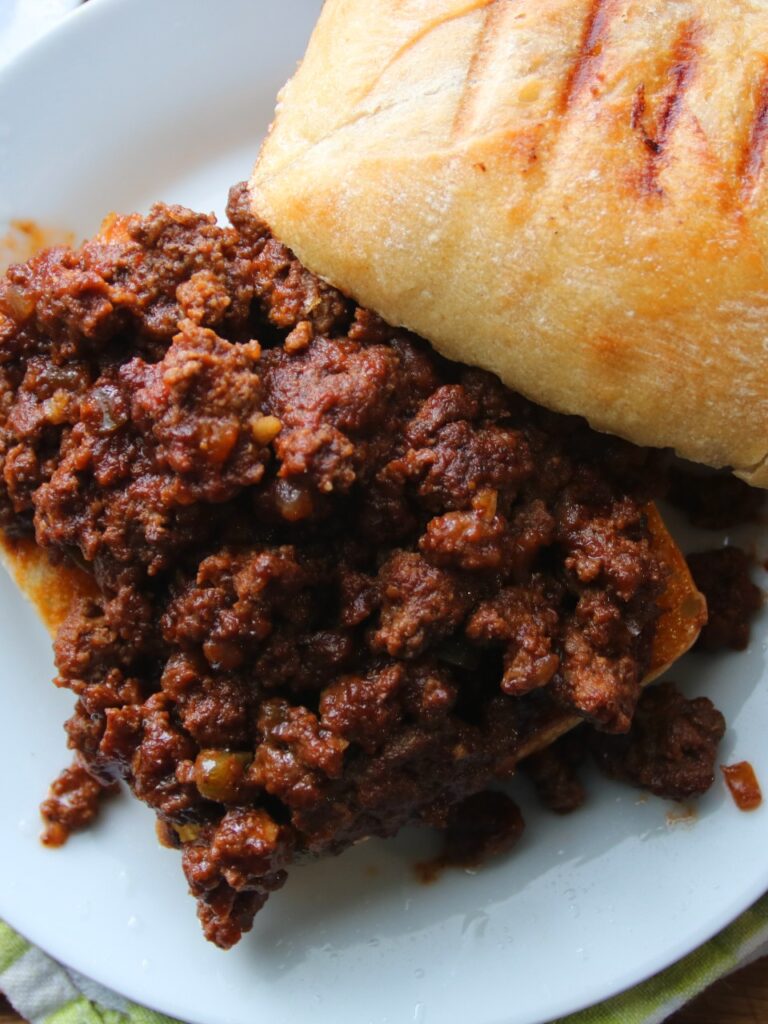 The Secret SLOPPY JOE Recipe
Description
Looking for a delicious and easy meal that everyone will love? Look no further than The Sloppy Joe Secret! In this video, we'll show you how to make this classic American dish using simple ingredients that you likely already have in your kitchen.
Add the oil to a pan over medium high heat. Put in the onion and bell pepper. Stir and saute until the onion is translucent and the bell pepper softens. 

Put the beef in and break it down with a spoon. Stir and fry for about 4 minutes until most of the pink is gone.

Add in the garlic. stir and saute until fragrant. 

Add in the tomato paste and bbq sauce. Stir and fry once again. 

Add in the sugar, Worcestershire sauce, ketchup, dijon mustard, salt, pepper, hot pepper flakes, and beef stock. Stir and bring to a boil. Allow it to simmer for a few minutes until desired consistency is achieved. 

Toast a bun and place the sloppy joe mixture over and put the top on. 

Serve and enjoy your sloppy joes. 
---
Amount Per Serving

Calories 520kcal

Calories from Fat 140kcal

% Daily Value *

Total Fat 18g

28

%

Saturated Fat 6.7g

34

%

Trans Fat 0.9g

Cholesterol 83mg

28

%

Sodium 1705mg

72

%

Potassium 800mg

23

%

Protein 28g

57

%
---
* Percent Daily Values are based on a 2,000 calorie diet. Your daily value may be higher or lower depending on your calorie needs. Nutritional values are a within reason estimate and my vary depending on several factors.
Note
Seasoning Variations: Feel free to experiment with different seasonings and spices to add a unique twist to your Sloppy Joes. A dash of hot sauce or a pinch of cayenne pepper can add heat, while a splash of liquid smoke can add a more barbecue flavour.

Veggie Add-Ins: Adding extra veggies to your Sloppy Joes can increase the nutritional value and add more texture to your sandwich. Try diced carrots, celery, or zucchini, or add a handful of sliced mushrooms for a meaty texture.

Make it Lighter: If you're looking for a healthier option, try using ground turkey or chicken instead of beef, or use a mixture of both. You can also use a low-sodium tomato sauce and swap out the brown sugar for a natural sweetener like maple syrup or honey.

Serve with Sides: Sloppy Joes are a classic American dish that can be served with a variety of sides. Try serving with coleslaw, potato salad, baked beans, or sweet potato fries for a delicious and complete meal.

Leftovers: Sloppy Joes reheat well, so don't be afraid to make a double batch and enjoy the leftovers later in the week. Simply store in an airtight container in the refrigerator and reheat in the microwave or on the stove.

Gluten-Free Option: If you follow a gluten-free diet, make sure to use gluten-free buns or serve the Sloppy Joes over a bed of rice, quinoa, or roasted vegetables.

Freezer-Friendly: Sloppy Joes can also be made ahead and frozen for a quick and easy meal later on. Simply allow the mixture to cool to room temperature, then store in an airtight container or freezer-safe zip-top bag. When ready to eat, simply defrost in the refrigerator overnight and reheat on the stove or in the microwave.
Sandwich, Sloppy Joe, Lunch, Dinner, Recipes