In this recipe, we're sharing our amazing recipe for Thrifty Creamy Cheesy Chicken Rolls. If you're looking for a tasty and satisfying meal that won't break the bank, you've come to the right place.
These chicken rolls are packed with flavor and are incredibly easy to make. We've found a way to create a creamy and cheesy filling without sacrificing on taste or your wallet. With simple and affordable ingredients, you'll be able to whip up a batch of these rolls in no time.
Whether you're a busy parent trying to feed a hungry family or someone on a tight budget looking for tasty meal ideas, these Thrifty Creamy Cheesy Chicken Rolls are the perfect solution. They're great for a quick weeknight dinner or even as a crowd-pleasing appetizer for your next gathering.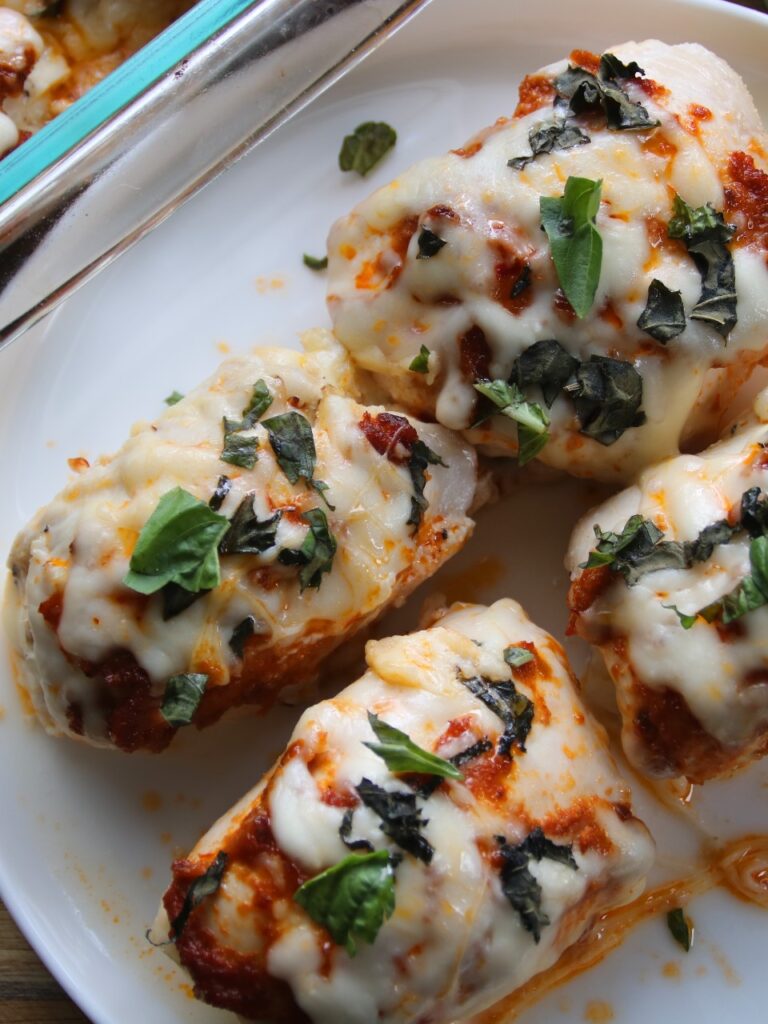 Thrifty Creamy Cheesy Chicken Rolls
Description
Join us in the kitchen as we walk you through the step-by-step process of making these rolls. We'll show you how to prepare the chicken, create the creamy and cheesy filling, and roll everything up to perfection. You won't believe how incredible these rolls taste while being so easy on your wallet.
Lay the chicken fillet on a flat surface. Season with salt, pepper, and garlic powder. Generously spread the cream cheese over each piece followed by a good pinch of mozzarella. Place some sun sun dried tomatoes and half a basil leaf on the largest end. 

Starting at the largest end, roll each chicken fillet up. Spray a baking dish with baking spray and place the rolls in.

Spread some sun dried tomato pesto over the chicken rolls. Place in a 350 degree preheated oven for 15 to 20 minutes. 

After 15 to 20 minutes, remove the rolls from the oven. Spread the additional mozzarella and basil over the top and place back in the oven for an extra 10 - 15 minutes. 

Serve and enjoy your creamy cheesy chicken rolls. 
---
Amount Per Serving

Calories 575kcal

Calories from Fat 1kcal

% Daily Value *

Total Fat 12.8g

20

%

Cholesterol 55mg

19

%

Sodium 750mg

32

%

Potassium 890mg

26

%

Total Carbohydrate 9g

3

%

Dietary Fiber 2g

8

%

Sugars 2.3g

Protein 12g

24

%
---
* Percent Daily Values are based on a 2,000 calorie diet. Your daily value may be higher or lower depending on your calorie needs. Nutritional values are a within reason estimate and my vary depending on several factors.
Note
Chicken Options: You can use boneless, skinless chicken breasts or chicken tenders, as suggested, for this recipe. If you prefer a lighter flavor, opt for chicken breasts. However, chicken tenders tend to be more tender and cook faster.

Creamy and Cheesy Filling: The filling for these rolls is made with a combination of cream cheese, mozzarella, and a few additional spices like garlic powder, salt, pepper, sun dried tomatoes, and basil. Feel free to customize the seasoning according to your taste preferences, however.

Optional Additions: If you want to add some extra flavors and textures to your chicken rolls, consider incorporating ingredients like cooked and crumbled bacon, diced vegetables (such as bell peppers or onions), or chopped fresh herbs (such as cilantro or parsley).

Baking vs. Frying: In the video, we demonstrate baking the chicken rolls in the oven for a healthier option. However, if you prefer a crispier texture, you can lightly brush the rolls with oil and pan-fry them until golden brown on all sides.

Freezing and Reheating: These chicken rolls can be prepared in advance and frozen for later use. Once assembled, place the rolls on a baking sheet lined with parchment paper and freeze until firm. Transfer the frozen rolls to a freezer-safe container or bag. When ready to enjoy, bake them directly from frozen, adding a few extra minutes to the baking time.

Serving Suggestions: Serve these Thrifty Creamy Cheesy Chicken Rolls with your favorite dipping sauce, such as ranch dressing, salsa, or a tangy barbecue sauce. They also pair well with a side salad, steamed vegetables, or seasoned rice for a complete meal.
Remember, this recipe is all about being thrifty and delicious, so feel free to adapt it to your taste preferences and use what ingredients you have on hand. Get creative and enjoy these scrumptious Thrifty Creamy Cheesy Chicken Rolls without breaking the bank!
Chicken Dinner, Chicken Rolls, Cream Chicken Rolls, Easy Dinners