Our better than restaurant style steamed fish is so simple to make yet elegant and incredibly delicious. To make this steamed fish recipe all you need is a make shift steamer, if you have a real or commercial steamer, by all means use it.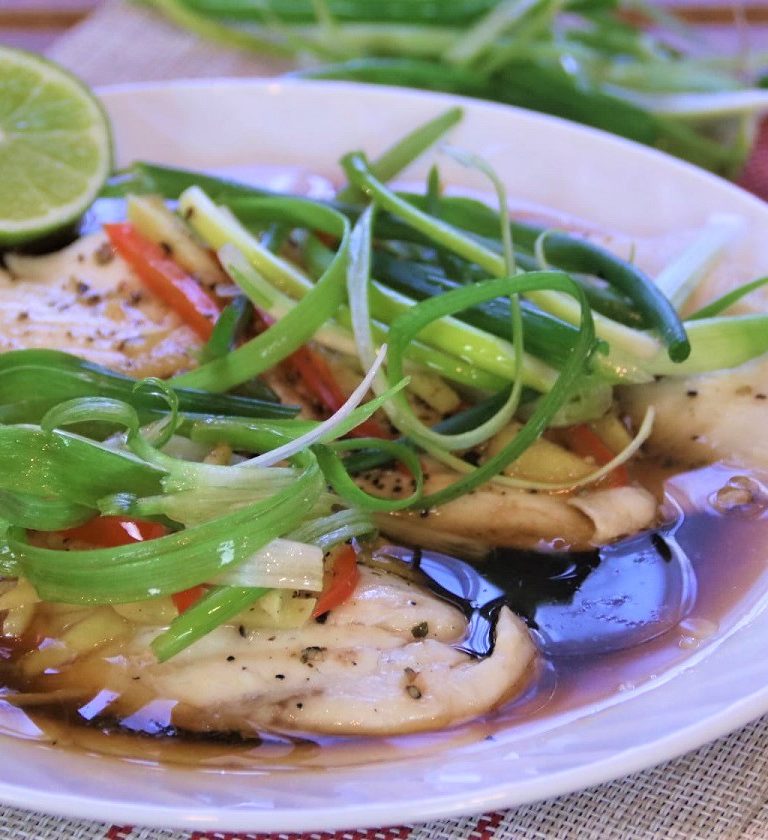 Better Than Restaurant Steamed Fish
Description
The great thing is the dish is made with a few simple ingredients such as soy sauce, sesame sauce, green onions, pepper, and a couple more. The outcome, believe me, is a better than restaurant style quality that your dinner guests and family will rant and rave about.
Submerge the green onions in ice water while you are preparing the rest of the recipe.

Place the fish into a good size bowl. Pour the soy sauce in and squeeze the lime over and sprinkle with fresh pepper.

To make the steamer if you don't have one:

Roll up a piece of aluminum foil into a log and form a circle with it and place it into the bottom of a large wok or deep frying pan.

Put the bowl containing the fish over the foil and add enough water so it comes to the top. Bring to a boil.

Lower the heat and place a lid on. Allow the fish to steam for about 10 minutes.

Make the sauce by combining the soy sauce and sesame oil in a small pot and heat until it begins to bubble around a chop stick.

Remove the fish from the steamer and top with the green onions.

Pour the sauce over and serve. Enjoy your better than restaurant steamed fish.
Serving Size 2 fillets
Servings 2
---
Amount Per Serving

% Daily Value *

Total Fat 12.6g

20

%

Saturated Fat 3.6g

18

%

Sodium 86mg

4

%

Protein 47g

94

%
---
* Percent Daily Values are based on a 2,000 calorie diet. Your daily value may be higher or lower depending on your calorie needs. Nutritional values are a within reason estimate and my vary depending on several factors.
Note
I use tilapia in the recipe as it is the fish of my choice. You can use any kind of white fish, however. For example, cod, sea bass, etc. could be used. I have even know people to use salmon. Give our better than restaurant steamed fish a try and let us know what you think.
fish